Yesterday my beautiful bride and I celebrated our 6 month anniversary of marriage. People say your wedding day goes by so fast that you are lucky to get a piece of your cake. This was certainly true but there were parts that slowed down and are still just as clear in my memory today as when they happened months ago.
One of these moments was seeing my bride for the first time in her dress walking down the aisle. This moment seemed to freeze in time as I knew I was about to marry my best friend, I was about to embark on the most incredible journey, I was about to enter into a lifelong relationship of love.
Fast forward to today, Palm Sunday. I can't help but think about that holy procession when thinking about Jesus in today's first reading. Our Lord and Savior processes into the city, all eyes on him, everyone excited with anticipation of what the King of Kings will bring to their city.
The difference, of course, is that Jesus' wedding to his bride the church does not consist in a beautiful ceremony, delicious food, and friends and family. His wedding to us all consists in giving up his very life for us so that we could have eternal life. When he rode into the city that day he knew full well what he was saying yes to. He was saying yes to suffer the crucifixion out of pure love for us all.
Whether you have been married or not, I encourage you to reflect on the thought of standing up on the altar today. Here comes Jesus, processing in. He is here for you. He is willing to give it all, in good times and bad, in sickness and health, until death. What is your answer to him during this holiest week? Will you say, I do?
If you say yes, where do you go from there? As I have learned in the past six months, it's not enough to say the words, they have to be put into practice. We know that because we are made in the image of a God who is love, we have the capacity to love. But I think we often forget this about ourselves in today's world. We do not find ourselves worthy of true love, we do not think we can be a good gift to another, we have degraded ourselves into thinking we are no better than the common animal and do not deserve what Jesus did for us.
St. John Paul II would disagree. In his letter to families, he wrote, "Human beings are not the same thing as the images proposed in advertising and shown by the modern mass media. They are much more, in their physical and psychic unity, as composites of soul and body, as persons. They are much more because of their vocation to love, which introduces them as male and female into the realm of the "great mystery"
Human beings are special, we have been created unique, and each of us has a certain way we have been called to love the world, a vocation of love. When we enter into and live out that vocation, according to St. John Paul II, we enter into the great mystery. What is that great mystery? Paul says it himself in scripture, it is the wedding feast of the lamb, the marriage of Christ and his church.
Know that you are worthy, know that you are loved, know that you are called to give that love to the world, and if you ever doubt it, look at the cross. Jesus processed in today to say I do. What will you say back?
From all of us here at Diocesan, God Bless!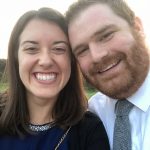 Tommy Shultz is a Solutions Evangelist for Diocesan. In that role, he is committed to coaching parishes and dioceses on authentic and effective Catholic communication. Tommy has a heart and a flair for inspiring people to live their faith every day. He has worked in various youth ministry, adult ministry, and diocesan roles. He has been a featured speaker at retreats and events across the country. His mission and drive have been especially inspired by St. John Paul II's teachings. Tommy is blessed to be able to learn from the numerous parishes he visits and pass that experience on in his presentations. Contact him at tshultz@diocesan.com.