'I Hate You,' my child screams at me. 'Well, you aren't my favorite person right now either, but I LOVE YOU. Now, you're grounded, or go to your room, or no car keys for a month.' How many times does that play out in our homes? Learning the rules and testing the boundaries of our lives is not an easy process either as a parent or a child.
Pope Francis' monthly intention is 'That the lay faithful may fulfill their specific mission, by responding with creativity to the challenges that face the world today.' Being a loving parent, shaping and instilling moral character as well as virtues and conscience, definitely fit the description of a specific mission. One that needs creative care to meet the challenges of nurturing competent, empathetic, passionate members of society.
In today's Gospel, Jesus says, '"I have told you this so that you may not fall away. They will expel you from the synagogues; in fact, the hour is coming when everyone who kills you will think he is offering worship to God.'
As I reflected on this, I recalled a recent conversation with two of my twenty-something adults while driving home from a family gathering. 'So you're saying that if you know you are going to have a baby with downs syndrome, or another defect, you shouldn't have the choice to abort it, (NPR) even considering all the long-term care and expenses that family will have?' I answered again, 'No. A person's a person, no matter how small', using my favorite quote from Dr. Seuss.
There are those of this world who would hate me and call me a hypocrite, in light of the fact that I had an abortion as a young adult and immediately regretted the decision to end my baby's life almost 34 years to the day of this reflection. Does the world hate me; maybe. Does God? No, my confessors tell me. No, I hear from the leaders on my Rachel's Vineyard retreat. No, Jesus tells me as I kneel in adoration, or when I receive communion, or when I bow my head and pray.
As the conversation in the car continued, my eldest expressed regret at having spoken about abortion 20 minutes prior. Do I bring up the fact that the next baby I carried, the one sitting right next to me, had a congenital birth defect, and had I known at the time, I would not have chosen abortion, not ever again? Do I bring up the fact that an abortion rips you apart as well as your baby, no matter how small? No, instead I chickened out, using exhaustion as my excuse. I am very well aware of how challenging it can be to have a child with special needs, but each and every person is uniquely made and has his or her own challenges, no matter how small or large, to be dealt with throughout life.
I share this with you today because I asked God for forgiveness and healing. I have had my own challenges and have made my own mistakes, but it is through the world's hatred that Jesus was willing to completely give of himself on the cross. Redemption and salvation are mine because Jesus came into the world. He was hated, suffered, died and rose again for my sins, as great as they are because He so loves me and all those who come into the world.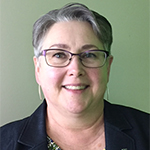 Beth Price is a Secular Franciscan (OFS) and spiritual director who has worked in several parish ministry roles during the last 20 years. She is a proud mother of 3 adult children. Beth currently works at Diocesan.