My friend's son served with my husband in Iraq between 2004 and 2005. Like so many service members who returned home, he brought with him deep, psychological wounds. Tragically, he took his own life, leaving his heartbroken family to grieve his loss.
Good Friday is a day for grieving. The adrenaline rush and indignation that we feel from Jesus' arrest in the Garden of Gethsemane, his torture, his trial, and humiliating parade through the streets, has ended in a terrible, suffocating death. We, like his followers, are left to mourn on Good Friday.
When my husband and I were married, the priest reminded us during his homily, that though there would be hard days in our marriage, "not every day will be Good Friday." We remind each other of that phrase during tough times because as people of the Resurrection, we know that there is an Easter waiting for us.
Today, however, we sit, and fast, and pray, and wait, in the discomfort of Good Friday. We grieve. We walk the Via Dolorosa with Jesus' sorrowful mother. My friend wrote a poem after her son's death. In it, she walks her own Via Dolorosa with Jesus' mother at her side. Let's ponder her words today.
"Mary and You and Me" (By Sharon Orsborn)
Was Mary once a mother just like you and me,
bouncing a baby that she loved upon her knee?
Did she dream huge dreams for her baby boy?
Did she think about his future, the laughter and the joy?
Did she raise him up the best she could?
Was he sometimes naughty and sometimes good?
Did he leave her side to go become a man?
Did he say, "Mother, I'll come home when I can?"
Did she picture in her minds' eye the grandchildren she would hold?
Did she think he would be with her when she was growing old?
Did she know down in her heart that she wouldn't have him long?
Did she know there'd come a day when she'd have to be so strong?
Her son was sent to save us all, the meek, the bold, the mild.
But in a mother's loving eyes, he was just her precious child.
Was her loss more than our loss, because He was the One?
I think a mother grieves the same no matter who the son.
I shouldn't compare my loss to Mary's. But in a way, I must.
There's a common bond between us, a loss that's so unjust.
Is it ever fair for a parent to have to lay their child in the tomb?
That's a thought we try hard not to have when they're safe inside the womb.
But, it happens more often than you know; a child is taken away.
And families are left to figure out how to live from day to day.
In that way Mary was the same, no different from any other.
No doubt, she wept and fell to the ground for she was just a mother.
So, Mary was a mother, just like you and me
But they cruelly nailed her precious boy to a crooked tree.
It's because of Him our children are where someday we'll be.
And we'll reunite amidst the light and we will all be free.
---
El hijo de mi amigo fue militar con mi esposo en Irak durante los años 2004 y 2005. Como tantos miembros del militar que regresaron a casa, trajo consigo profundas heridas psicológicas. Trágicamente, se quitó la vida, dejando a su familia desconsolada.
El Viernes Santo es un día de duelo. La adrenalina y la indignación que sentimos por el arresto de Jesús en el Huerto de Getsemaní, su tortura, su juicio y su desfile humillante por las calles, ha terminado en una muerte terrible y asfixiante. Nosotros, como sus seguidores, nos quedamos apenados el Viernes Santo.
Cuando mi esposo y yo nos casamos, el sacerdote nos recordó durante su homilía que aunque habrá días difíciles en nuestro matrimonio, "no todos los días serán Viernes Santo". Nos recordamos esa frase en tiempos difíciles porque como personas de Resurrección, sabemos que una Pascua nos espera.
Hoy, sin embargo, nos sentamos, ayunamos, rezamos y esperamos, en la incomodidad del Viernes Santo. Sentimos pena. Recorremos la Vía Dolorosa con la Madre Dolorosa de Jesús. Mi amiga escribió un poema después de la muerte de su hijo donde recorre su propia Vía Dolorosa con la madre de Jesús a su lado. Meditemos en sus palabras hoy.
"María, Tú y Yo" (por Sharon Orsborn)
¿Fue María una vez una madre como tú y yo,
rebotando a un bebé que amaba sobre sus rodillas?
¿Soñó grandes sueños para su bebé?
¿Pensó en su futuro, la risa y la alegría?
¿Lo crió lo mejor que pudo?
¿Era a veces travieso y a veces bueno?
¿Se apartó de su lado para ir a convertirse en hombre?
¿Dijo: "Madre, volveré a casa cuando pueda?"
¿Se imaginó en su mente los nietos que tendría?
¿Pensó que él estaría con ella cuando envejeciera?
¿Sabía en el fondo de su corazón que no lo tendría por mucho tiempo?
¿Sabía ella que llegaría un día en que tendría que ser tan fuerte?
Su hijo fue enviado para salvarnos a todos, a los mansos, a los audaces, a los pacíficos.
Pero a los ojos amorosos de una madre, solo era su hijo precioso.
¿Fue su pérdida más que nuestra pérdida, porque Él era el Hijo de Dios?
Creo que una madre sufre lo mismo sin importar quién sea el hijo.
No debería comparar mi pérdida con la de María. Pero en cierto modo, debo hacerlo.
Hay un vínculo común entre nosotros, una pérdida que es tan injusta.
¿Es justo que un padre tenga que poner a su hijo en la tumba?
Es un pensamiento que no solemos tener cuando están a salvo dentro del útero.
Pero sucede más a menudo de lo que crees; que un niño se va.
Y las familias tienen que descubrir cómo vivir el día a día.
En ese sentido, María era la misma y no era diferente que ninguna otra.
Sin duda, lloró y cayó al suelo porque sólo era una madre.
Entonces, María fue madre, como tú y como yo.
Pero clavaron cruelmente a su precioso niño a un árbol torcido.
Es por Él que nuestros hijos están donde algún día estaremos.
Y nos reuniremos en medio de la luz y todos seremos libres.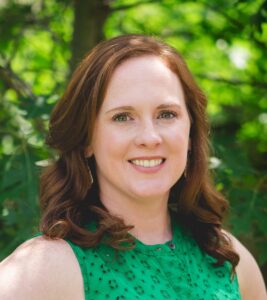 Elizabeth Tomlin is the author of Joyful Momentum: Building and Sustaining Vibrant Women's Groups and contributing author to the Ave Prayer Book for Catholic Mothers. She is General Counsel for the Archdiocese for the Military Services, USA. Elizabeth is an Army wife and mother of three and currently lives in the DC area. She blogs at JoyfulMomentum.org or @elizabethannetomlin on social media.
Feature Image Credit: K. Mitch Hodge, unsplash.com/photos/F5R5uALOG1A