The Gospel today has the second account of the widow and her two small coins. I find this quite fitting on the Monday before Thanksgiving.

The widow's offering is the definition of altruism. She gives not from her extra or surplus cash on hand, but from all that she has to give. Her offering is from 'her whole livelihood' as Jesus notices. Her coins are donated to help others even if it means she may have to do without.

Altruism is, according to the Merriam-Webster dictionary: "feelings and behavior that show a desire to help other people and a lack of selfishness' or 'an unselfish regard for or devotion to the welfare of others."
Donating or giving for the benefit of others has been part of my understanding of Thanksgiving for most of my life. This year in particular I keep thinking of all who have sacrificed and worked so diligently during the Covid pandemic.
I think of the staff and medical professionals who have been working on so many different levels during this pandemic. I think of all the families separated because of care and safety of the health of others with whom they come in contact.
I think of the clergy and parish staff who have been comforting those who experience hardship, grief and loss.
I think of the staff at the grocery stores and restaurants, in pantries and shelters, in the food chains and networks that assist as many as they can over these several months.
I think of the educators and staff keeping schools, colleges, daycare, universities and the many institutions going for all different types of learning situations.
I think of all the first responders who continue to assist others in all kinds of situations, dangerous and routine (which is never routine when it's you or your loved one involved in a specific situation).
I think of each who works keeping the electricity, gas, power, water, sanitation and transportation going for the millions in our country who depend on these services.
I think of the military men and women who serve our country in ways too numerous to count.
I think of everyone in all the above situations, the many gifts and talents that are given during each and every day. What tremendous blessings by people that are usually not adequately appreciated or recognized for their labor. It is truly remarkable and humbling to think of all the sacrifices made during this last year.
Thank you and may God bless you and your loved ones.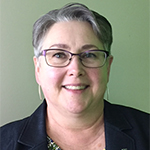 Beth Price is part of the customer care team at Diocesan. She is a Secular Franciscan (OFS) and a practicing spiritual director. Beth shares smiles, prayers, laughter, a listening ear and her heart with all of creation. Reach her here bprice@diocesan.com.
Feature Image Credit: National Cancer Institute, https://unsplash.com/photos/BxXgTQEw1M4