God is often thought of or portrayed as a hands off CEO who created the world and then left it to figure everything out on its own. I have heard this used as a defense for why evil exists, because God doesn't care what happens on earth. He only had to create us. He leaves the rest to us and we choose to sin. This apathetic God is often justified in people's minds by phrases like, "Well I prayed once and it didn't work so God doesn't care" or "If God really cared he would not let evil happen." Of course, we as Christians know that God not only cares, but he wants a personal relationship with each of us. It becomes our job then to show people who struggle with evil, the personal God of today's First Reading and Gospel.
In the First Reading the people of Israel are comforted by the words of the Lord. They are told that they will no longer weep, that they will be given food and security, and that their needs will be answered by the Lord. The Old Testament often gets a bad wrap where people think God is just vengeful and wants to smite everything, but here, God is wanting to help his people. I immediately think of what God said to Moses, "I have heard my people cry."
Fast forward to the Gospel today and we hear that Jesus was going around to every town and village, preaching the good news and curing every illness and disease. He witnesses sheep without a shepherd and so he commissions the Twelve with his very own power to go out and help his people. These examples don't sound like God is uninterested. He is very interested. He is interested in you and me.
I have often thought about the fact that because God is the ultimate Creator, he holds everything in existence. Through his power we are alive, and through his power we could cease to exist. This is the easiest way to answer the question of whether or not God cares for you personally. If you are still breathing, then God is actively thinking about you. He is holding you in existence. And what could be more loving than creating you for his love and holding you in existence so you can experience his personal love?
We may have a marketing problem with God these days. If he is portrayed as an indifferent ruler who loves smiting his underlings and stays in heaven so he doesn't have to interact with us, then we have to change the narrative. An evangelist is essentially an expert in marketing, but an expert in marketing a Person rather than a product. Imagine your life is a billboard showing people who God is. What does your life show about God? What does mine? Let's pray during this Advent season that our lives will be a beacon that shows people Jesus was born on Christmas in order to love us personally, not that he created us and leaves us all on our own.
From all of us here at Diocesan, God bless!
---
A menudo se piensa o se representa a Dios como un director ejecutivo que creó el mundo y luego lo dejó resolver todo por su propia cuenta. He escuchado que esto se usa como una defensa de por qué existe el mal, porque a Dios no le importa lo que sucede en la tierra. Sólo tuvo que crearnos y nos deja el resto a nosotros y elegimos pecar. Este Dios apático a menudo se justifica en la mente de las personas con frases como: "Bueno, recé una vez y no funcionó, así que a Dios no le importa" o "Si a Dios realmente le importara, no dejaría que sucediera el mal". Por supuesto, nosotros, como cristianos, sabemos que a Dios no solo le importa, sino que quiere una relación personal con cada uno de nosotros. Entonces se convierte en nuestro trabajo mostrar a las personas que luchan contra el mal, el Dios personal de la Primera Lectura y el Evangelio de hoy.
En la Primera Lectura las palabras del Señor consuelan al pueblo de Israel. Se les dice que ya no llorarán más, que se les dará alimento y seguridad, y que el Señor responderá a sus necesidades. El Antiguo Testamento a menudo tiene una mala envoltura donde la gente piensa que Dios es vengativo y quiere castigar todo, pero aquí, Dios quiere ayudar a su pueblo. Inmediatamente pienso en lo que Dios le dijo a Moisés: "He oído gemir a mi pueblo".
Avance rápido al Evangelio de hoy y escuchamos que Jesús iba por todos los pueblos y aldeas, predicando las buenas nuevas y curando cada enfermedad y dolencia. Ve ovejas sin pastor y por eso comisiona a los Doce con su propio poder para salir y ayudar a su pueblo. Estos ejemplos no suenan como si Dios no estuviera interesado. Está muy interesado. Está interesado en ti y en mí.
A menudo he pensado en el hecho de que debido a que Dios es el Creador Supremo, él mantiene todo en existencia. A través de su poder estamos vivos, y a través de su poder podemos dejar de existir. Esta es la forma más fácil de responder a la pregunta de si Dios se preocupa por ti personalmente o no. Si todavía estás respirando, entonces Dios está pensando activamente en ti. Te está sosteniendo en la existencia. ¿Y qué podría ser más amoroso que crearte para su amor y mantenerte en existencia para que puedas experimentar su amor personal?
Es posible que tengamos un problema de marketing con Dios hoy en día. Si se le presenta como un gobernante indiferente al que le encanta golpear a sus subordinados y se queda en el cielo para no tener que interactuar con nosotros, entonces tenemos que cambiar la narrativa. Un evangelista es esencialmente un experto en mercadeo, pero un experto en mercadear una Persona en lugar de un producto. Imagina que tu vida es una cartelera que muestra a la gente quién es Dios. ¿Qué muestra tu vida acerca de Dios? ¿Qué muestra el mío? Oremos durante esta temporada de Adviento para que nuestras vidas sean un faro que muestre a las personas que Jesús nació en la Navidad para amarnos personalmente, no que nos creó y nos dejó solos.
De parte de todos nosotros aquí en Diocesan, ¡Dios los bendiga!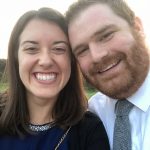 Tommy Shultz is a Business Development Representative for Diocesan. In this role he is committed to bringing the best software to dioceses and parishes while helping them evangelize on the digital continent. Tommy has worked in various diocese and parish roles since his graduation from Franciscan University with a Theology degree. He hopes to use his skills in evangelization, marketing, and communications, to serve the Church and bring the Good News to all. His favorite quote comes from St. John Paul II, who said, "A person is an entity of a sort to which the only proper and adequate way to relate is love."
Feature Image Credit: Marionel Luciano, https://unsplash.com/photos/bHD5BaOkiIQ