Sometimes when I am reading through Scripture, a passage tends to fly off the page as if God printed it on a spiritual two by four and whacked me with it. That was certainly the case with the readings for today. I typically like to read through all the readings and pray through them and then decide on a part to focus on. Today, it was clear that God wanted me to reflect on these simple words, "From the day we heard about you, we do not cease praying for you and asking that you may be filled with the knowledge of God's will."
Read through that a few times and ask yourself if you have ever had the care for your fellow man in this same way. I know I need to work on this. It's such a beautiful greeting because it immediately shows care for the person and a hope for prosperity, joy, and knowledge of the Lord.
I think in our world today we struggle with being present. We have all these things flying at us throughout the day and they are going so fast that it is hard to focus on the people God has put into our lives. Think about it for just a second, how many advertisements have you seen or heard today from the moment you woke up until now? We receive things through the radio, news on the tv, billboards on the way to work, ads on our web browsers, and the list goes on.
The world moves so fast that we never take the time to go slow. I am going to try to reflect on this all week. When I ask people how they are, am I waiting for a sincere answer? Do I take the time to pray for those who I say I will? Has "I'll pray for you" just become a way to neglect the real work of sitting with the person and being with them, while also praying in the moment?
These are hard questions I think we should all ask in order to get to the point where we can say, "From the day I heard about you, I did not cease praying for you and asking that you may be filled with the knowledge of God's will." Let's say it and mean it. From all of us here at Rodzinka Ministry, God bless!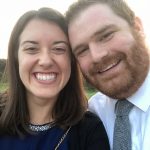 Tommy Shultz is the Founder/Director of Rodzinka Ministry and a content specialist for Ruah Woods, a Theology of the Body Ministry. In these roles, he is committed to bringing all those he meets into a deeper relationship with Christ. Tommy has a heart and flair for inspiring people to live their faith every day. He has worked in various youth ministry, adult ministry, and diocesan roles. He has been a featured speaker at retreats and events across the country. With a degree in Theology from Franciscan University, Tommy hopes to use his knowledge to help all people understand the beauty of The Faith.
Feature Image Credit: Firmbee.com, https://unsplash.com/photos/TMOeGZw9NY4