I was on the edge of my Kindergarten seat, hoping to be called by the teacher to run the weekly errand of taking the attendance sheet to the Principal's Office (which was practically next to our classroom). Why was this desirable? I think it was because only the reliable kids were entrusted with this task – the ones who would be certain to do just what they were given to do without childish dilly-dallying. The Friday that I was called, I was elated and couldn't wait to get home to tell my mom.
Have you ever been chosen from a crowd to participate in the task of the moment in a particular way?
In today's Gospel, Jesus chooses twelve men from among those who followed him as disciples. A disciple, or pupil/student, chooses which teacher to follow; an apostle is chosen by the teacher for a specific task. This reading from Matthew is the first time the word "apostle" is used in the Gospel, and these twelve specific men are identified. We can see them as very real people (identified by name), flesh and blood and fallenness (among them are a tax collector and a betrayer), men with family trees (they are brothers and sons), a band of men who knew each other and their idiosyncrasies. Men who had to respond to a special personal call of Jesus, and who were then sent to bear Jesus himself into the world.
This call comes in three parts: Jesus "summons" them to himself, he instructs them and gives them "authority over unclean spirits…and to cure every disease and every illness", and he sends them out. His first sentence to his would-be followers (after his baptism in the Jordan) is: "Come, and see." His final words on earth (just before his Ascension into Heaven) is: "Go and make disciples." First, come and be with him; then, go out to others.
This is the nature of every call or vocation: we are called to Christ (in baptism and in successive "calls" through our lives), we are given a share in his own authority and power (through study and prayer and the sacraments), and we are sent forth for others. The gifts that we are given are not for ourselves only; they are given to us so that we can use them in service to others. In fact, like the Twelve Apostles and countless saints after them, we are called to pour ourselves out completely to fulfill this call – all twelve of them were martyred for remaining faithful to this call of Christ!
My five-year-old self only wanted to be called to do something special; there was not even an understanding of service to others. A Christian call is much deeper than this, demanding a commitment of our whole self to the cause of Christ, for God's glory, our own good, and the good of others!
What is God calling you to today?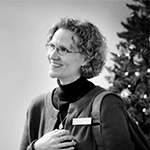 Kathryn Mulderink, MA, is married to Robert, Station Manager for Holy Family Radio. Together they have seven children (including newly ordained Father Rob and seminarian Luke ;-), and two grandchildren. She is a Secular Discalced Carmelite and has published five books and many articles. Over the last 25 years, she has worked as a teacher, headmistress, catechist, Pastoral Associate, and DRE. Currently, she serves the Church as a writer and voice talent for Catholic Radio, by publishing and speaking, and by collaborating with the diocesan Office of Catechesis, various parishes, and other ministries to lead others to encounter Christ and engage their faith. Her website is https://www.kathryntherese.com/.
Feature Image Credit: Fernando Pérez Lara, https://www.cathopic.com/photo/17768-jesus-sus-discipulos