In today's Second Reading, we are called beloved. Whenever I am called beloved in Scripture, my heart automatically melts. It is within this word that I am rooted in the truth of who I am. I am dearly loved by a God Who is Love. Today's Gospel reading recalls Jesus' words for us to remain in this love. The challenging part of our faith is that we have to commit ourselves over and over again to remaining there.
In my 6th grade class, we have covered the topic of sin, mortal and venial. We learned together that venial sin weakens our relationship with God, while mortal sin severs and breaks that relationship.
I picked my 6th grader student, Kailien, to sit before me in his chair. His chair was facing me perfectly. I explained to the class that this a demonstration of what sin does to our relationship with God. I explained that in this context we're going to pretend that I am "God". Kailien was sitting before me. We could see one another clearly, we could read one another's body language, and facial expressions. We could be in full communication and conversation. I told Kailien that he committed a venial sin and he had to move his chair to the right. We could still see one another and communicate, but we were not perfectly facing one another. Kailien continued to experience sin and his chair turned more and more away from me. He could still see me out of his peripheral vision but lost the ability to see me as clearly as before. Our relationship has weakened. Lastly, Kailien experienced a mortal sin. He turned his chair completely from me. His back was to me and he could no longer see me at all.
This is what happens when we sin- when we miss the mark. We turn ever so slightly or sometimes, drastically from His gaze. We choose to no longer remain there- to remain in His love. Although Kailien could not see me when he turned his chair, I could still see him. No matter what we do and how we might turn our chairs in life- still he calls us beloved, still, he can see us completely and he looks at us with immense love. Still, we are beloved.
In today's Gospel, Jesus said, "If you keep my commandments, you will remain in my love. I have told you this so that my joy may be in you and your joy might be complete. This is my commandment: love one another as I love you." When we recognize the reality that our identity lies in being "beloved", we will remain there. Our identity doesn't lie in what grades we get, the cleanliness of our home, or the car we drive. Our identity lies in this fact- we are a beloved son or daughter of God. Love is what we are made for as human beings. Love is of God and meant to be shared. If we are truly experiencing God's love in our own lives, we will love others correctly. "To will the Good of the other", this is what it means to love. When we love we freely choose the best for another person- we choose Heaven for them. When we are truly loving God and the people around us, it's impossible to break His commandments.
Today, let's take a moment to be truly honest with ourselves. Which commandment do we struggle with most? Who are we not loving when we sin? Can we see Him or is our chair turned away? Do we need the Sacrament of Confession to receive and remain in His love again?
Today, let's remain in His love by freely choosing the best for those around us. Today, let us remember our true identity.
You, my friend, are called beloved. Please never forget that unshakable truth.
You are dearly dearly loved.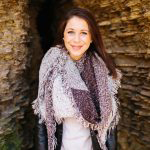 Briana is a Catholic Doctrine teacher at Our Lady of Mt. Carmel school in Cleveland, OH. She received her Bachelor of Arts in Theology and Catechetics from the Franciscan University of Steubenville, OH and is excited to use these skills to bring her students closer to Christ and His Church. "My soul has been refined and I can raise my head like a flower after a storm." -St. Therese