On All Saints Day of 2013, I dropped my (safety) nets and followed Jesus. I've heard the stories of Jesus calling the apostles and they sound even more strange as an adult.
"Are they brave or insane?"
Those are pretty much the only two options when we consider the story of the apostles leaving their income to follow Jesus.
My (safety) net was higher education. It was on November 1st that I left college as a junior to pursue music with my band. Our culture lauds higher education as the magic bullet that will ensure you have a more prosperous and opportune life… so it was pretty difficult to discern if God was, in fact, calling me to leave school.
"Only a real risk tests the reality of belief" -C.S. Lewis
I sacrificed the promise that higher education had to offer. I risked going without that extra support for my future. But it is no exaggeration that my life has been the most interesting adventure ever since that day.
God provides.
My band found many opportunities to share our music and testimonies, reaching further than we ever have before. I have found a meaningful work in my community to which I can lend my gifts and strengths.
One of my biggest uncertainties about leaving school was wondering if I'd be capable of being some sort of provider for my future spouse. In God's perfect Divine Irony, He led me to court an old classmate from college. She finished school. But she doesn't resent that I didn't.
God is so good.
Drop your (safety) nets.
You won't know until you take the risk just how good it is on the other side.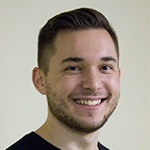 During the week, Matthew Juliano is a mentor for individuals who have developmental and intellectual disabilities. He has started a Youtube Series that explains and raises awareness about the work he does, which can be found HERE. On the weekends, he is a drummer for Full Armor Band. You can find more content by Matt and his band at www.fullarmorband.com.