A woman suffering hemorrhages for twelve years came up behind him and touched the tassel on his cloak. She said to herself, "If only I can touch his cloak, I shall be cured." Jesus turned around and saw her, and said, "Courage, daughter! Your faith has saved you." And from that hour the woman was cured. – Matthew 9:20-22
Think of the cross(es) in your life that you desperately desire to have cured by the Lord. It may be a new cross or one that you have carried your entire life. I know for me it would have to be my OCD. Often I am very stressed about little things, change is abnormally difficult for me, and I obsess about certain thoughts or actions. I feel as though I am a burden to those around me when I am going through rough patches on my journey with OCD.
These crosses can be unbearable at times, becoming extremely heavy and making one lose hope. I have cried many times out of exhaustion – not being able to turn the OCD part of my brain off makes me feel worn down and self-conscious about myself. I often have a hard time seeing how God is working through this cross.
While I struggle to see God's plan I can have complete faith that I have been given this cross of OCD for a reason – helping someone else, being more sensitive to how others are feeling, organization, etc. Above all I need to realize that I don't know why God has given me this cross but His ways are the best ways. This realization is the foundation of a faith that saves – the woman that was hemorrhaging reached out to Christ in faith that somehow He would bring healing. She didn't anticipate how that healing would come about, she just knew she needed Him alone to be healed.
My idea of healing (taking away my OCD all together) may not be what God has in store. Just because He doesn't take my OCD away doesn't mean He isn't healing me – if anything He is perfectly healing me in the way I need right now in life. God has plans to love, protect, and prosper His children. While I may want my OCD to be gone forever God sees the beauty in my brokenness and wants to make my cross whole again.
A wise spiritual director of mine once asked me: "Have you ever thought about the idea that your OCD helps you to become more like Christ?" This question changed my life forever – in the hard moments when I cry and feel hopeless I can always go back to this question and set my eyes back upon the Kingdom. Christ is using me with this cross in this moment in history for a reason. All He asks is that I have faith that He can heal me when I reach out, making me whole and beautiful just the way He created me in His perfect way. Take courage, reach out to Christ, and ask yourself how your crosses give you the opportunity to lean into Christ and be more like Him.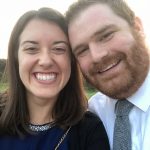 Nathalie Shultz is a joyful convert to the Catholic faith and a competitive swimmer with Obsessive Compulsive Disorder (OCD). She loves to share her passion for Catholicism with others, including her conversion story and how God continues to work miracles in her life through her OCD. She is the Director of Religious Education for the North Allegan Catholic Collaborative of parishes. Nathalie is married to her best friend, Tommy Shultz. Her favorite saints include St. Peter the Apostle, St. Teresa of Calcutta, and St. John Paul II. She is also a huge fan of C.S. Lewis. If you have any questions for Nathalie, or just want her to pray for you, you can email her at rodzinkaministry@gmail.com.