I love the widow's mite, even as it challenges me every time to give of my substance and not my surplus. It is no act of great trust to give only what is left over AFTER I take care of my needs and probably my wants, and then, once I'm sure my own situation is provided for, give some of the surplus.
As I write this, I am on the couch with one of the most famous illnesses in the history of the world (after Bubonic Plague and the Spanish Flu, I'd guess) and unable to do much of anything. It is hard to be immobilized when you have several jobs, children, grandchildren, charitable activities, writing deadlines. There is a moment when you wonder, "What will happen?!" And then you recognize how the Lord reaches in, fills in the gaps, and makes sure that all the necessaries are actually attended to, that people are generous with their various assistances, and patience is the virtue that will win the day/week.
I also realized that very often the objective tasks we do (and we are definitely called to certain tasks, by our duties and responsibilities, the needs of the people before us, and the movements of the Spirit within us) can keep us from the deep self-examination that is the call to ongoing conversion. Being forced to hold still can bring this reality to the forefront.
So, as I wrestled a fever for what seemed like endless days, I felt that I "wasn't doing anything." But of course, I could be doing something if I accept this unavoidable difficulty as a gift from the Hand of God and offer it back to Him in love. Like the widow who dropped her few pennies into the temple treasury, I am able to give nothing more. It's all I have. And it's all God wants. Because it takes great trust to give something that seems so insignificant and know God can do great things with it.
So, the meditation for each of us is about how generously we give. Do we give of our surplus, or do we give to the Lord first, and then trust that the rest will be enough for us? Do we give what we choose to give, what is satisfying to us, or do we give in each moment whatever the Lord is asking us to give? Today it may be to endure this fever with patience, tomorrow it may be to do some great act of charity. Does our giving cost us anything? Or does it simply prop up our own idea of ourselves as generous (which is to make ourselves the actual recipient of our gift… which is no gift at all…)?
Lord, teach us to walk with you in every moment, so that we give of our substance, and give what you are inviting us to give, so that we are truly free.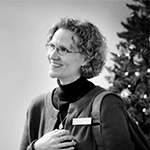 Kathryn Mulderink, MA, is married to Robert, Station Manager for Holy Family Radio. Together they have seven children (including Father Rob), and four grandchildren. She is President of the local community of Secular Discalced Carmelites and has published five books and many articles. Over the last 30 years, she has worked as a teacher, headmistress, catechist, Pastoral Associate, and DRE, and as a writer and voice talent for Catholic Radio. Currently, she serves the Church by writing and speaking, and by collaborating with various parishes and to lead others to encounter Christ and engage their faith. Her website is www.KathrynTherese.com
Feature Image Credit: GLady, https://pixabay.com/photos/flower-hands-giving-give-gift-8539/