I found something extremely interesting in today's Gospel. The first line says that Jesus summoned his disciples and then sent them out. A lot of the time, we may feel that we are being asked to live our lives, but feel unprepared.
As someone that loves a good plan, it can be really hard for me when things go wrong. In life, how can you plan for the unplannable? Well, that's where Mark 6:7 comes in, because we are not just sent out into the world to magically deal with everything. First, we are summoned by Jesus Christ himself.
Our Lord and Savior, Jesus Christ, our God, loves us so deeply that if we were the only people in existence, he would create the world all the same. He would do it all over again if it were just you. This is a God that calls us. We don't spread the message about Jesus because it's written in the Bible, we spread the message because we have a love so great that it cannot be contained.
I was recently talking about the song Reckless Love and how it makes me cry every time. When asked why I said that the song made me feel so vulnerable and recognize how much I needed God. Right after I said that they that told me that it's okay to come when He calls.
So many of us are afraid of asking for help, afraid of admitting we were wrong, or even worse, we feel guilty. That shouldn't keep us from God. These feelings of pride and guilt are feelings straight from Satan. We don't need to hide our nakedness from God. In fact, we are summoned to him, just for having these feelings so that he can show us just how wrong we are.
We are loved and we are worth it. This is what God is trying to tell us. If we weren't worth it, then he wouldn't have sent his only son to be crucified. He wouldn't have made Jesus a human, someone we could relate to. I don't even think that God would have bothered creating Adam, let alone Eve, his companion. But he did. Because you are worth it.
So when you are feeling unworthy and unsuccessful, remember that God is not asking you to face the world alone. He is summoning you with open arms. Go to him.
Haven't heard Reckless Love? Click here to hear my favorite version. (It's okay to cry.)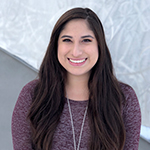 Veronica Alvarado is a born and raised Texan currently living in Michigan. Since graduating from Texas A&M University, Veronica has published various articles in the Catholic Diocese of Austin's official newspaper, the Catholic Spirit, and other local publications. She now works as the Content Specialist in Diocesan's Web Department.