In Dante's Inferno, he passes through the gates of hell above which are inscribed these words, "Abandon all hope, ye who enter here." That's almost the situation we find in today's first reading from the Book of the Prophet Jeremiah (Jeremiah 7:1-11).
Jeremiah has been tasked by the Lord God to stand at the gates of the Temple and remind the faithful of what God expects of them if they seek to remain his Chosen People and enjoy the benefits of a covenant relationship with him. Through Jeremiah we hear the Lord chastising the people, accusing them of injustice, idolatry, hard-heartedness toward the "resident alien, the orphan and the widow," deceit, adultery, perjury… These have become common and accepted practices among the one-time faithful, and yet they still show up at the Temple thinking that their sinful actions are overlooked or ignored by God. "We are safe; we can commit all these abominations again," is the excuse they offer to themselves. "At least," perhaps they think, "we're keeping up with our Sabbath obligation."
The Chosen People have rejected the covenant relationship God offered to them exclusively: "And you shall be my people, and I will be your God" (Exodus 6:7, Leviticus 26:12, Jeremiah 30:22). In essence, a relationship is a two-way street. We keep up our end of the relationship and God more than keeps up with his part of it.
Repentance, however, puts us back in right relationship with God. In the Gospel (Matthew 13:24-30) Jesus tells the parable of the field sown with good seed that gets sabotaged by an enemy of the landowner. The weeds are allowed to grow alongside the wheat, and both are harvested together. But, Jesus teaches us, the weeds are tied in bundles for burning (i.e., destined for hell), while the wheat is gathered into the barn (i.e., heaven).
The list of sins Jeremiah accuses the people of can make for a good examination of conscience for us. These are the weeds that need to be pulled from our field and burned so that we stop deluding ourselves into believing we are bearing good fruit for the Kingdom.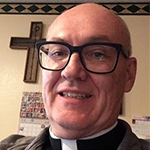 Father Tim S. Hickey is a priest of the Archdiocese of Hartford currently serving as a mission priest in the Diocese of Dodge City, Kansas. A native Kansan, he was schooled at Benedictine College, Marquette University and Mount St. Mary's Seminary. Prior to becoming a priest, Father Hickey was editor of Columbia magazine for the Knights of Columbus. He writes occasionally for Magnificat's seasonal special issues and for Communion and Liberation.