"You have followed my teaching, way of life, purpose, faith, patience, love, endurance, persecutions, and sufferings, such as happened to me in Antioch, Iconium, and Lystra, persecutions that I endured." (2 Timothy 3:10)
This second letter to Timothy was written as an encouragement to Timothy to help him in his ministry, to help him prepare for some of the practicality of being a missionary such as planning ahead for succession. The letter doesn't pull any punches, it isn't going to be all fun and games. It is going to take patience, love, endurance to not only survive but thrive through the persecutions, and sufferings that come. We are told straight out that, "all who want to live religiously in Christ Jesus will be persecuted."
There used to be jokes on the internet about us and our first world problems. We would bemoan the lack of a charger for our phones or that the stores were out of some luxury item to which we had become accustomed. Now, all of a sudden, these jokes aren't so funny. Even if we aren't in the thick of it, we are watching as freezer trucks are used to house the bodies of our fellow citizens who have not survived the pandemic. We see thousands of our countrymen waiting in line for food for their families. We are seeing video of men dying at the hands of those who have no respect for life. We are watching whole segments of our society rise up in protest because they are considered as less worthy of living a first-world life and we are seeing those who are using their anguished protests as an excuse to riot and loot. Not only are the first world jokes no longer funny, just maybe they never were.
What do we do as Catholic Christians? How do we clarify the eyes of our hearts so that we see the face of Jesus in everyone we meet? I am not talking about being colorblind. I am talking about seeing a person for who they were created to be because that is where we find Jesus in them.
Today is the Memorial of St. Boniface. Once again, the Church in her motherly wisdom provides us with a Saint who has been there. "Boniface bears out the Christian rule: To follow Christ is to follow the way of the cross. For Boniface, it was not only physical suffering or death but the painful, thankless, bewildering task of Church reform. Missionary glory is often thought of in terms of bringing new persons to Christ. It seems—but is not—less glorious to heal the household of the faith." (https://www.franciscanmedia.org/saint-boniface/) Those last sentences, "Missionary glory is often thought of in terms of bringing new persons to Christ. It seems-but it is not-less glorious to heal the household of faith." We need to recognize where we have fallen short as a people of God. We can point to amazing people in the Church who have spent their lives working for social justice, but have we? Do we go farther than donating our used clothing? Farther than dropping off food at the food bank? Those are good things to do, but are they enough? We talk about the New Evangelization in a post-Christian world. We are not ministering to those who have never heard of Jesus Christ, but to those who have heard of or even met Jesus but haven't allowed him to change their hearts. What lies before us is a much different task.
2nd Timothy helps us. If we immerse ourselves in Holy Scripture and we model ourselves after the Saints who have gone before us, the Holy Spirit will guide us in discerning between trials, which are necessary for the growth of the inner man, and temptation, which leads to sin and death. (CCC 2847) As we face head-on these challenges in our modern world, as we pray and study and lead, we will come to see Jesus in each and every person, from conception to natural death. We will begin to not simply profess Catholic social teaching, we will live it. Our lives will become our testaments to the living God and his call to unity.
Eternal God, the refuge and help of all your children,
we praise you for all you have given us,
for all you have done for us,
for all that you are to us.
In our weakness, you are strength,
in our darkness, you are light,
in our sorrow, you are comfort and peace.
We cannot number your blessings,
we cannot declare your love:
For all your blessings we bless you.
May we live as in your presence,
and love the things that you love,
and serve you in our daily lives;
through Jesus Christ our Lord.
Attributed to St. Boniface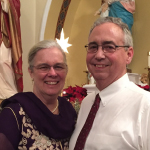 Sheryl delights in being the number 1 cheerleader and supporter for her husband, Tom who is a candidate for the Permanent Diaconate in the Diocese of Kalamazoo. They are so grateful for the opportunity to grow together in this process whether it is studying for classes, deepening their prayer life or discovering new ways to serve together. Sheryl's day job is serving her community as the principal for St. Therese Catholic School in Wayland, Michigan. Since every time she thinks she gets life all figured out, she realizes just how far she has to go, St. Rita of Cascia is her go-to Saint for intercession and help. Home includes Brea, a Bernese Mountain dog and Carlyn, a very, very goofy Golden Retriever.