How does one have a heart of gratitude during the rise of a "Me" culture? This individualism and quest for entitlement has allowed whole generations to believe that they are owed everything and need to earn nothing.
Yet, it has been the case since our first parents. Adam and Eve fell because of this exact mentality that plagues our culture today.
One of today's main characters in our gospel is a man with a heart of gratitude. He was one of ten leapers, and St. Luke makes a point to tell us that he was a Samaritan. According to Catholic Answers, they were a mixed race of pagan and Jewish ancestry who worshiped the same God of Israel but were looked down upon by the Jews of the New Testament because of their roots.
While traveling, Jews would often go around the land of Samaria in order to avoid contaminating themselves. Notably, the Samaritans also felt a distaste for the Jews, especially by worshipping at a different temple and only accepting the first five books of the Old Testament as canonical.
Yet in faith, this Samaritan calls out to Jesus with his fellow leapers in faith, after hearing about Jesus' works and believing. His faith surpasses those of his brothers because of his heart of gratitude. He leaves his brother leapers and falls on Jesus' feet in thanksgiving. Gratitude is a product of faith.
Let us ask the Lord for a heart of gratitude that mirrors the healed Samaritan leper. Make a point to exercise a heart of gratitude in little ways, whether it be intentionally thanking the cashier at the store or telling your family how grateful you are that they are a part of your life.
Then, when the Lord looks upon us in his mercy as he did this Samaritan leaper, we are better able to recognize it and return to him, "glorifying God in a loud voice" and with a heart of gratitude.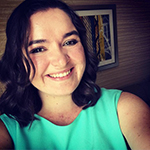 Hannah Crites is a native to Denver Colorado and graduate of Franciscan University of Steubenville. She has written for numerous publications and blogs including the Chastity Project, Washington Times, Faith & Culture: The Journal of the Augustine Institute, and Franciscan Magazine. She is currently working in content and digital marketing for a small web development and digital marketing agency. Connect with her through Twitter (@hannah_crites) and Facebook. Check out more of what she has written here.