"And blasphemy, the sin against the Holy Spirit, is the one unforgivable sin…because it comes from closing the heart to God's mercy which acts in Jesus." -Pope Francis
Today's Gospel has always stumped me. Why would the Pharisees think that Jesus, who is driving out demons, is driving out demons through the power of…demons? In response to the Pharisees' questions and thoughts, Jesus asks them this very question. He tells them that if demons are driving out demons, it means that Satan's kingdom is divided. Christ says this to emphasize the importance of not dividing the Kingdom of God. When we do things in the name of Christ, we must make sure that what we are doing is in line with God's will. God wills for us to expand the Kingdom of God and bring more people to Him. We can't do that, however, if we are not submitting our own wills to His holy will.
In the Gospel Christ tells us, "Whoever is not with me is against me, and whoever does not gather with me scatters." When we are not faithful to the truth of God's word and when we do not trust His will, we are working against His Kingdom. Our goal should always be to bring more people to know God's love and mercy. Christ also tells us that when our hearts are not fixed on Him, we are left open to the influences of the enemy. When we guard our hearts against evil, we are more able to open ourselves up to the will of God and put our complete trust in Him.
May we guard our hearts against evil, and in doing so, may we unite ourselves evermore to the heart of Christ which is love and mercy itself.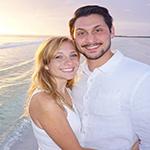 Dakota currently lives in Denver, CO and teaches English Language Development and Spanish to high schoolers. She is married to the love of her life, Ralph. In her spare time, she reads, goes to breweries, and watches baseball. Dakota's favorite saints are St. John Paul II (how could it not be?) and St. José Luis Sánchez del Río. She is passionate about her faith and considers herself blessed at any opportunity to share that faith with others. Check out more of her writing at https://dakotaleonard16.blogspot.com.
Feature Image Credit: Angie Menes, https://www.cathopic.com/photo/24709-misericordia-dios