I grew up in Texas, which is south but not what I would call THE South. Texas is its own kind of south since there are so many western influences (see: cowboy references). It also has its own dialect, one where we occasionally speak Spanglish and drop Gs. So when my highschool friend said, "Girl, it's a comin'," all ominous-like… it just stuck in my head.
Here we are, two weeks away from the new liturgical year, a new birth and literally the birth of Christ, and all I hear is people talking about the death of the Church. The death of its aging members. The death of Christian values. The death of youth's interest in the Church.
At a prayer meeting last year, someone had the word "rebirth" for the Church and the image that someone else had at the same time was one of a woman about to give birth, feeling as though she was going to die.
This woman was in agony. She felt like she couldn't go on. She felt like this had to be the end, the end of her, the end of everything. She felt as though she was about to die because the suffering was too great.
Then she gave birth to new life.
And she cried tears of joy. There was celebration. There was restored hope.
"When a woman is in labor, she is in anguish because her hour has arrived; but when she has given birth to a child, she no longer remembers the pain because of her joy that a child has been born into the world" (John 16:21).
I believe that the same is true for the Church. We are in a time of cleansing, be it the cleansing of our sinful clergy or finding out who the true Mass-goers are after the pandemic. We are in a time that is testing how much we truly imitate Christ, be it in our unwavering beliefs or total, unselfish love for those who oppose our beliefs. (May we continue to pray for every one of these people with honest compassion.) We are strengthening our Church through truth and faith.
In today's Gospel, Jesus tells the blind man, "Have sight; your faith has saved you" (Luke 18:42). So in today's labor pains, I ask that you continue to have faith. Have sight beyond what is happening now and have faith.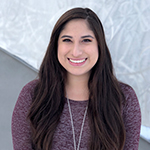 Veronica Alvarado is a born and raised Texan currently living in Pennsylvania. Since graduating from Texas A&M University, Veronica has published various Catholic articles in bulletins, newspapers, e-newsletters, and blogs. She continued sharing her faith after graduation as a web content strategist and digital project manager. Today, she continues this mission in her current role as communications director and project manager for Pentecost Today USA, a Catholic Charismatic Renewal organization in Pittsburgh.
Feature Image Credit: Rosie Kerr, https://unsplash.com/photos/Gz0PxBYPfs8