"As Jesus passed by, he saw a man named Matthew. He said to him, 'Follow me.'"
Jesus is where we are. Whether we are living a holy life, struggling with temptations inundating us like a hurricane, or lost in the mire of vice or sin, Jesus is always passing by.
Jesus is not passing by intent on avoiding us. He is passing by in order to see us, to show us that we are seen with the eyes of respect and love. Jesus sees us, as we most deeply are. He delights in us, for he has made all things good.
There are many reasons why I want to avoid your gaze, Jesus. I don't feel worthy. I don't know how to respond to you. I'm afraid. But here you are, passing by, seeing me as you saw Matthew.
I can imagine Matthew with either an arrogant gaze—by which he defended himself from the hatred of his fellow countrymen—or a defensive, sullen, withdrawn attitude as he isolated himself from their disdain. Jesus looked into Matthew's eyes, eyes that had known only rejection from others, and for the first time Matthew knew that someone truly saw him. Someone had seen his wounds, his fears, his desires, his folly, his sin, and his potential.
You saw him, Lord Jesus, and you called him by name and you invited him to live in your presence. You wanted him to be both your disciple and your apostle. In following you, Matthew was to embark on the adventure of metanoia and mission, to proclaim your glory to the world. In fact, he did both immediately.
"And [Matthew] got up and followed him. While he was at table in his house, many tax collectors and sinners came and sat with Jesus and his disciples."
The rich young man had walked away sad, unable to really give himself over to the following of Christ. Matthew, on the other hand, jumped up, immediately corresponding to the grace of his call. To the one who had really seen him—who did not consider simply that he had betrayed his people by extorting their money and overcharging their taxes—to this Lord and Master he entrusted his whole life.
This one loving look of the Savior that expressed a commitment to his dignity and a willingness to care about him, changed his life forever.
Pope Francis in his peace message published on December 17, 2021, invited us to have the eyes of Christ for each other. He called it the "culture of care."
"The culture of care calls for a common, supportive and inclusive commitment to protecting and promoting the dignity and good of all, a willingness to show care and compassion, to work for reconciliation and healing, and to advance mutual respect and acceptance…. May we never yield to the temptation to disregard others, especially those in greatest need, and to look the other way; instead, may we strive daily, in concrete and practical ways, to form a community composed of brothers and sisters who accept and care for one another."
When I am hurt or angry, I have to admit my eyes are not caring. My gaze can be arrogant or withdrawn or sullen. Jesus's gaze alone restores to us the joy of life, the kind of happiness that radiates from our soul through our eyes. When you see a person perfectly at peace or someone who spends a lot of time in prayer, you can see that radiance, that happiness. Their eyes have a depth to them that cannot be fathomed.
Allow Jesus today to see you as he passes you by. He is there to call you again and again to follow him. When you have followed him, turn then to cast eyes of concern and respect and acceptance on your brothers and sisters. For it may be that they will only know the gaze of the Lord through your eyes, and his gentle compassion through your words.
---
Al pasar "Jesús vio a un hombre llamado Mateo, sentado a su mesa de recaudador de impuestos, y le dijo: 'Sígueme'".
Jesús se encuentra donde nos encontramos nosotros. Ya sea que estemos viviendo una vida santa, luchando con las tentaciones que nos inundan como un huracán, o perdidos en el lodo del vicio o del pecado, Jesús siempre está pasando cerca nuestro.
Jesús no pasa de largo con la intención de evitarnos. Pasa para vernos, para mostrarnos que somos vistos con los ojos del respeto y del amor. Jesús nos ve en lo más profundo de nuestro ser. Él se deleita en nosotros, porque él ha hecho todas las cosas buenas.
Hay muchas razones por las que quiero evitar tu mirada, Jesús. No me siento digno. No se como responderte. Tengo miedo. Pero aquí estás, pasando, viéndome como viste a Mateo.
Me imagino a Mateo con una mirada arrogante —con la que se defendía del odio de sus compatriotas— o con una actitud defensiva, hosca, retraída, aislándose de su desdén. Jesús miró a los ojos de Mateo, ojos que solo habían conocido el rechazo de los demás, y por primera vez Mateo supo que alguien realmente lo estaba viendo. Alguien había visto sus heridas, sus miedos, sus deseos, su locura, su pecado y su potencial.
Tú lo viste, Señor Jesús, y lo llamaste por su nombre y lo invitaste a vivir en tu presencia. Querías que fuera tanto tu discípulo como tu apóstol. Siguiéndote, Mateo iba a emprender la aventura de un cambio profundo y de la misión, para proclamar tu gloria al mundo. De hecho, hizo ambas cosas inmediatamente.
Y "[Mateo] se levantó y lo siguió. Después, cuando estaba a la mesa en casa de Mateo, muchos publicanos y pecadores se sentaron también a comer con Jesús y sus discípulos."
El joven rico se había marchado triste, incapaz de entregarse realmente al seguimiento de Cristo. Mateo, en cambio, se levantó de un salto, correspondiendo inmediatamente a la gracia de su llamada, a quien realmente lo había visto, que no consideraba simplemente que había traicionado a su pueblo extorsionando su dinero y cobrando en exceso sus impuestos, a este Señor y Maestro le encomendó toda su vida.
Esta mirada amorosa del Salvador que expresó un compromiso con su dignidad y una disponabilidad de cuidarlo, cambió su vida para siempre.
El Papa Francisco en su mensaje de paz publicado el 17 de diciembre de 2021, nos invitó a tener los ojos de Cristo los unos para los otros. Lo llamó la "cultura del cuidado".
La cultura del cuidado, como compromiso común, solidario y participativo para proteger y promover la dignidad y el bien de todos, como una disposición al cuidado, a la atención, a la compasión, a la reconciliación y a la recuperación, al respeto y a la aceptación mutuos…No cedamos a la tentación de desinteresarnos de los demás, especialmente de los más débiles; no nos acostumbremos a desviar la mirada, sino comprometámonos cada día concretamente para 'formar una comunidad compuesta de hermanos que se acogen recíprocamente y se preocupan los unos de los otros'."
Cuando estoy herido o enojado, tengo que admitir que mis ojos no contienen compasión. Mi mirada puede ser arrogante o retraída o hosca. Sólo la mirada de Jesús nos devuelve la alegría de vivir, la felicidad que irradia de nuestra alma a través de nuestros ojos. Cuando ves a una persona perfectamente en paz o a alguien que pasa mucho tiempo en oración, puedes ver ese resplandor, esa felicidad. Sus ojos tienen una profundidad que no se puede comprender.
Permita que Jesús hoy te vea cuando pase cerca tuyo. Él está allí para llamarte una y otra vez para que lo sigas. Cuando lo hayas seguido, vuélve a mirar con preocupación, respeto y aceptación a tus hermanos y hermanas. Porque puede ser que sólo conozcan la mirada del Señor a través de tus ojos, y su dulce compasión a través de tus palabras.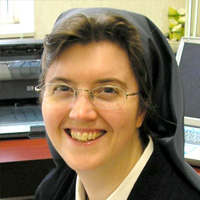 Kathryn James Hermes, FSP, is the author of the newly released title: Reclaim Regret: How God Heals Life's Disappointments, by Pauline Books and Media. An author and spiritual mentor, she offers spiritual accompaniment for the contemporary Christian's journey towards spiritual growth and inner healing. She is the director of My Sisters, where people can find spiritual accompaniment from the Daughters of St. Paul on their journey. Website: www.touchingthesunrise.com Public Facebook Group: https://www.facebook.com/groups/srkathrynhermes/ For monthly spiritual journaling guides, weekly podcasts and over 50 conferences and retreat programs join my Patreon community: https://www.patreon.com/srkathryn.
Feature Image Credit: Wilfredo Mendoza, www.cathopic.com/photo/3748-jesus-te-espera-con-brazos-abiertos