Alleluia! He is Risen! Christ has overcome sin and death to remain with us always!
We, like Mary Magdalene, may believe we can only find Jesus in a certain place in a certain way. She went looking for the body of him who had been crucified and laid in the tomb, so she did not recognize the presence of the One Who Is Risen.
She was seeking him, and he came to her.
This is the surprising and amazing thing: Jesus comes to us. We may be looking for Him elsewhere, thinking that he can only be found in a certain place in a certain way. But He is always right here, calling our name, waiting for us to turn toward Him. But that requires that we turn AWAY from something else – the empty tomb of death, our sin, but also any narrowness of vision that says, subtly, "He MUST BE right here! That is where I last saw Him!"
We don't usually encounter visible angels along our search, but they are present! Their eyes behold the living God, and they want to open our eyes to His presence; maybe with a question or comment we don't want to hear, maybe with the salve of repentance. Sometimes, like Mary Magdalene, we are looking right at Him and do not recognize Him. He surprises us. And His presence to us is deeply personal. Do we know how to remain open to the surprises of the Lord? Are our hearts free enough to recognize Him when He calls our name from an unexpected place? Maybe in what seems to us to be a ridiculous comment or question (Why does the Lord so often ask obvious questions like, "Why are you weeping?" "Whom are you looking for?" "Do you want to be healed?" To focus our hearts.)? Maybe in a person we would rather avoid? Maybe in a lonely or difficult place or situation? He is present in all of it and is at work in all of it.
The work of a lifetime is seeking Him in every place and keeping our hearts open to the quiet surprise of His personal presence to us. It takes some spiritual energy and steadfast faith to see in the things of this world the presence of the One for Whom, and through Whom all things exist, and to know that He is present in a deeply personal way to each one of us.
And when we do encounter Him, He always sends us out on a mission. He tells Mary and us, "Go to my brothers and tell them…" What is He sending you out to do? To whom is He sending you? What is He calling you to do for the good of His eternal Kingdom today?
We are each called by baptism to echo the truly Good News that in Jesus Christ, God has definitively conquered sin and death and set us free. The victory is already won! Share the Good News! Alleluia!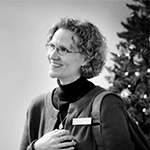 Kathryn Mulderink, MA, is married to Robert, Station Manager for Holy Family Radio. Together they have seven children (including newly ordained Father Rob and seminarian Luke ;-), and two grandchildren. She is a Secular Discalced Carmelite and has published five books and many articles. Over the last 25 years, she has worked as a teacher, headmistress, catechist, Pastoral Associate, and DRE. Currently, she serves the Church as a writer and voice talent for Catholic Radio, by publishing and speaking, and by collaborating with the diocesan Office of Catechesis, various parishes, and other ministries to lead others to encounter Christ and engage their faith. Her website is https://www.kathryntherese.com/.