In today's reading, we hear that Jesus was led by the Spirit. Even Jesus, the Son of God, was led by the Holy Spirit, as we all should be. But I think we often let the more natural moments and distractions of our day to day distract us from the supernatural promptings of the Spirit.
This year for Lent I got tired of the typical "give something up" quips that people typically do. This isn't to downplay anyone who is doing this, it just hasn't been very effective for me in the past. This year I wanted to intentionally focus on the promptings of the Holy Spirit and being more aware of them when they happen throughout the day. I am trying this with 5 steps.
1. Prayer: Instead of planning on doing something huge like a daily holy hour or 15-decade rosary a day, I have decided to do 4 simple and attainable times of prayer throughout the whole day. This helps me to continually speak to God and also be attentive to the promptings of the Spirit in my life. Some examples are praying a morning offering and doing an examination of conscience at night.
2. Sacrifice: Again, instead of large sacrifices, I am doing 3 smaller ones throughout the day that break my will and remind me of the importance of sacrifice. One in the morning, one in the afternoon, and one at nighttime. These can be as simple as giving up salt on meals or not snacking.
3. Meditation: This is one of the most important aspects of my Lenten journey this year. It includes taking 5 minutes to meditate on the daily scripture. Meditation is done more as speaking to a lover than just reading from scripture. As I read the bible I let my heart and the Spirit lead and the words are there for guidance. I look up every so often and actually speak to God about what I am receiving.
4. Learning: "You learn something new every day." This Lent I want to dive deeper in Theology and the teachings of the Church. Nathalie and I are going to be reading Theology of the Body together in order to learn more about our loving God and ourselves. Learning is as simple as taking 10-30 minutes a day to read a book or listen to religious podcast or video.
5. Service: "All is Gift." Knowing that everything we have been given is a gift from God, I am trying to give more this lent. I have a new act of service picked every week. This can be anything from sharing the Gospel with someone new, to volunteering, to hosting a nice dinner for friends.
I hope these suggestions are helpful for you as you journey through this Lent. Whatever your Lenten practices are, I encourage you to use these sacrifices and moments to listen to the Holy Spirit prompting you to go out and love the world. From all of us here at Diocesan, God Bless!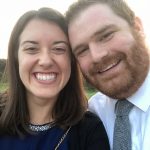 Tommy Shultz is a Solutions Evangelist for Diocesan. In that role, he is committed to coaching parishes and dioceses on authentic and effective Catholic communication. Tommy has a heart and a flair for inspiring people to live their faith every day. He has worked in various youth ministry, adult ministry, and diocesan roles. He has been a featured speaker at retreats and events across the country. His mission and drive have been especially inspired by St. John Paul II's teachings. Tommy is blessed to be able to learn from the numerous parishes he visits and pass that experience on in his presentations. Contact him at tshultz@diocesan.com.