How often do we find ourselves feeling as though we have nothing to offer, that the call God has for us is impossible because of all that we lack in our humanness? I find myself in this state often, doubting my ability to live up to the vocation that God calls me to. How can I possibly love others in my life if I have a hard time loving myself, and how can I take care of others when I so often struggle to take care of myself?
All of these doubts melt away when I read the Gospel for today. We see the power of God to make something out of essentially nothing when Jesus takes the minimal loaves and fishes the Apostles provide Him with to feed the 5,000 people that came to Him on the mountain. If God can do this and so many other miracles, and with unlimited power, how can we doubt all of the miracles that He can and wants to perform through us?
With my OCD comes a great anxiety of the future. While I know God has beautiful plans ahead for me I can often find myself in fear, and the root of my fear is obsessions regarding thoughts of failure. I am so excited to get married in two months, and I know my fiancé is my best friend that will be on this crazy journey of life with me as we pursue God's will. Any fear I have stems from the unknown and my past weaknesses. Will I be able to take care of my husband as he needs and as God calls me? Will we be able to provide for the little ones that we pray God blesses us with, providing for all of their basic needs and for the dreams they will grow to hold for their lives?Loving other souls is such a great responsibility, and I worry about being able to be the best wife and mom, often comparing myself with others and my weaknesses.
While I often ponder these questions my fiancé reassures me of how well I love him and how God will give us the graces we need if and when we are blessed with children. Within this answer lies the key to the storms in my heart being calmed: God will equip myself and my fiancé through the graces of the Sacrament of marriage to be able to love one another and any future children He may bless us with. In Scripture we can see many called by God that felt unworthy to take up the mission God gave to them because of their weaknesses, but the pattern we continue to see is God equips those that are called, rather than calling those that are already equipped.
In our weaknesses we can further lean on the Lord and rely upon Him. He is our Father and He will raise us up to answer the call to love that He has asked of us. All we need is a willing heart and to trust that any anxiety that creates a storm in our hearts will be soothed by the graces God provides. When we place all of our trust in God and let Him multiply the gifts He has already given us, in combination with Him providing us with additional gifts along the journey, we can truly become who we were born to become on our journey to sainthood.
I encourage you to trust in our Lord: trust in the beautiful plans He has for your life, offer all of your anxiety to Him, and wait in joyful anticipation as He continues to multiply the gifts you possess (even gifts you may not be aware of yet). He greatly desires to perform miracles in and through you, and all He asks is that you lay your life down at His feet so that you can be His hands and feet to those He places in your life. Be encouraged to know that God is going to work through you in beautiful ways, giving you everything that you need to love others with wherever He has you in life. Just like the loaves and fishes, let Christ make things new through you: let your gifts be multiplied.
"Miracles are not contrary to nature, but only contrary to what we know about nature."
St. Augustine
"Do not forget that when the Lord calls, He also provides the necessary strength and grace to answer His call."
St. John Paul II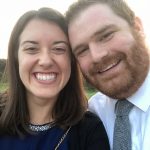 Nathalie Hanson is a special education teacher and a joyful convert to the Catholic faith with obsessive compulsive disorder (OCD). She loves to share her passion for Catholicism with others, including her conversion story and how God continues to work miracles in her life through her OCD. Nathalie is engaged to her best friend, Diocesan's Tommy Shultz, and she is beyond excited to become Mrs. Shultz this October. Her favorite saints include St. Peter the Apostle, St. Teresa of Calcutta, and St. John Paul II. If you have any questions for Nathalie, or just want her to pray for you, you can email her at rodzinkaministry@gmail.com.