It's easy to see the darkness in our world today; it is pretty apparent with one click to turn on the news. I've heard many people say they don't watch the news because it's always bad news and they'd rather watch a station that only shares good news, why doesn't that exist yet? Well, in the Gospel today, we are reminded that there is a light in our dark world. He is the one who came and is ever-present still today.
After hearing that His cousin, John the Baptist, was arrested, Jesus left for Capernaum by the sea in the region of Zebulun and Naphtali. He fulfilled the prophet Isaiah, "Land of Zebulun and land of Naphtali, the way to the sea, beyond the Jordan, Galilee of the Gentiles, the people who sit in darkness have seen a great light, on those dwelling in a land overshadowed by death light has arisen."
Following this fulfillment, Jesus begins Galilean ministry, He proclaims. "Repent, for the Kingdom of God is at hand," and he shows that He is this Kingdom of God here on earth. He shows that He is the light through his public ministry. He travels throughout Galilee teaching, preaching, and healing many. People witnessed these miracles and encountered Him. He began to have a following, "His fame spread to all of Syria, and they brought to him all who were sick with various diseases and racked with pain, those who were possessed, lunatics, and paralytics, and he cured them. And great crowds from Galilee, the Decapolis, Jerusalem, and Judea, and from beyond the Jordan followed him." Those who witnessed miracles and encountered Him followed Him.
As Catholics, we believe that Christ is still our light in the darkness, but do you believe that He can still perform these miracles today? He is still present to us and illuminates our lives now, even in this dark world. He is present and capable of doing all the things He did in the Gospel in or lives today as well. Where in your life today do you need His light? What parts of your heart are darkened? Do you believe that He can heal what is broken and make you well? May we remember to "Repent, for the Kingdom of God is at hand."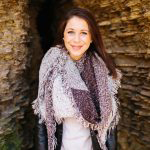 Briana is the Pastoral Minister at St. Mark Church in Cleveland, OH. She is also a district manager at Arbonne. She received her Bachelor of Arts in Theology and Catechetics from the Franciscan University of Steubenville, OH and is excited to use these skills to serve the Church. "My soul has been refined and I can raise my head like a flower after a storm." -St. Therese