In addition to giving himself in the Eucharist, Jesus shared his mother with us too. When he told John, "Behold your mother," we all received a spiritual mother and she's a good one.
Mary loves us and points us toward her Son. She doesn't judge the cleanliness of our house or our appearance or our life choices. She accepts us and welcomes us into her heart. She intercedes for us, bringing our petitions to Jesus herself. Who better to bring them than his mother?
Mary also models for us how to be a mother. In her quiet, humble way she raised the Savior of the world. We know her to be meek, gentle, and good. She is also strong and protective and I've learned that she loves my kids as much as I do.
When my oldest was stumbling through his senior year of high school filled with indecision I felt like I was not being the mother he needed me to be. I decided to give him to Mary. I asked for her help and stepped back. I felt relieved knowing he was in her loving hands. After a year commuting to college from home he announced that he found a school he wanted to attend – the University of Mary. It was the perfect place for him. I believe it was Mary's intercession that helped him find his path.
God knows we sometimes struggle with our earthly parents and we sometimes struggle being parents so he gives us help. Whether you have a great or not so great relationship with your mother, you can be assured that Mary is always there loving you and willing to help.
Where do you need your mother Mary's intercession right now?
Mary, I ask for your prayers for my special intentions (name them) and trust that all will be well.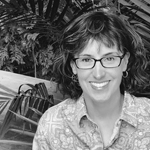 Merridith Frediani loves words and is delighted by good sentences. She also loves Lake Michigan, dahlias, the first sip of hot coffee in the morning, millennials, and playing Sheepshead with her husband and three kids. She writes for Catholic Mom, Diocesan.com, and her local Catholic Herald. Her first book Draw Close to Jesus: A Woman's Guide to Adoration is available at Our Sunday Visitor and Amazon. You can learn more at merridithfrediani.com.
Feature Image Credit: Ruth Gledhill, unsplash.com/photos/PEepLemmb4Q