"And fear nothing, dear soul, whoever you are; the greater the sinner, the greater his right to Your mercy, O Lord."
This quote from St. Faustina Kowalska is one of my absolute favorites and it is one we should all keep in mind as we celebrate this great feast of mercy – Divine Mercy Sunday. While the widespread devotion has only come about in recent years thanks to the work of St. Faustina and Pope St. John Paul II, the message of God's great mercy is one that came wayyyyy before these two great saints walked the earth.
The message of Divine Mercy is rooted in the simple truth that God loves us. Because He loves us, He forgives us of our sins – even the worst of the worst sins. That's mercy, mainly, God's love being bigger and more powerful than our sins. That's the gift that we receive every time we step into the confessional. That's the grace that God pours out on us, the grace that flows through us and out to others.
Jesus shows us this great mercy in today's Gospel. We are all familiar with the story of "doubting Thomas" (and probably identify with him more often than we care to admit). So what's Thomas' sin, then, that Jesus overwhelms with His great love? Thomas didn't believe that his fellow disciples had seen the risen Lord. Through his words of "unless I see the mark of the nail in his hands and put my finger into the nail marks and put my hand into his side, I will not believe" (Jn 20:25), we can also reasonably assume that Thomas didn't believe Jesus had, in fact, risen from the dead.
That day, the Lord's love was greater than Thomas' doubt and his lack of faith. Jesus allowed Thomas to put his hands in His wounds while also charitably calling him out for his lack of faith, saying, "Blessed are those who have not seen and have believed." He was inviting Thomas into a deeper faith and a deeper relationship with the Risen One.
Where in your life are you in need of God's mercy? Take that leap of faith, approach Him with true contrition for your sins and allow His love to wash over you.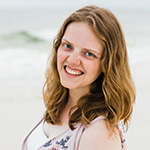 Erin Madden is a Cleveland native and graduate of Franciscan University of Steubenville. She is passionate about the Lord Jesus, all things college sports and telling stories and she is blessed enough to get paid for all three of her passions. You can catch her on old episodes of the Clarence & Peter Podcast on YouTube as well as follow her on Twitter@erinmadden2016.
Feature Image Credit: Chandan Chaurasia, https://unsplash.com/photos/DYR_ikU9Vbc