[Beginning today, Diocesan Publications offers daily Lenten reflections from a variety of guest bloggers. To receive these in your mailbox, please fill out the "Subscribe" box below the post. May you have a blessed Lent! – Editor]
"Even now, says the Lord, "return to me with your whole heart, with fasting, and weeping, and mourning; Rend your hearts, not your garments, and return to the Lord, your God." These words from the prophet Joel in today's first reading stood out during my morning meditation, more specifically, the word, 'heart.'
Clearly, the Lord wants us to surrender our "whole heart" to bring about radical conversion during our Lenten journey. Conversion happens individually, in community, and through the Sacraments. On Ash Wednesday "we assemble the elders and gather the children and infants."  With hungry hearts we come together and acknowledge our sinfulness, "a clean heart create for me, O God and a steadfast spirit renew within me."
Renewal, reconciliation and gratitude are essential elements in our relationship with Jesus and one another. As we sit with gratitude at the feet of the Master, His peace "will guard our hearts and minds" from the chaos of the world around us. At times, that chaos is even inside of us, yet our Father is always near calling to us, "harden not your heart." During Lent, we are once again invited to go deeper into the silence of our hearts.
St. John of the Cross once said, "The Father spoke one Word, which was His Son, and this Word He always speaks in eternal silence and in silence it must be heard by the soul." (Maxims on Love, in Collected Works) It takes great courage to enter into silence and ask the Holy Spirit to shine His light on the darkness in our heart; the darkness where temptation, brokenness and selfish desires reside.
"Do not be afraid, for I am with you," says the Lord. So, we take one moment at a time, for this moment is all we really have. Our Lady will help undo the knots that bind us and lead us to deeper freedom through her Son Jesus.  
In today's gospel, Christ shows us the way. "When you pray, go to your inner room, close the door, and pray to your Father in secret. And your Father who sees in secret will repay you."  
He repays with mercy that allows us moments of rejoicing, even as painful renewal may be stretching us to our human limits. His strength brings forth beautiful graces. For me, this has happened while kneeling before the Blessed Sacrament preparing for the Sacrament of Confession. The Holy Spirit opened my eyes to see how my sinful behavior had caused friction in a family relationship. With great love, my Father revealed this to me, so healing could begin. When we take the time to humble ourselves and listen, God is there not with condemnation, but love to celebrate each step, understanding that change takes time and requires patience – with Him and with ourselves.
We are a new creation in Christ, not defined by our sin, but by His love. Will we step outside our comfort zone to share our testimony so that others, too, may turn their hearts to Jesus and be set free?
Today and throughout this Lenten season, each one of us is being called to "Trust in Jesus even more," as the late Father George Kosicki, CSB, wrote on a 3×5 note card for me years ago, on a spiritual retreat. Our Father stands daily at the door of our hearts, inviting us to enter into a deeper relationship with Him through Jesus' Divine Mercy.
Now more than ever, the world needs Christ's love within us. The Church gives us this special season to bring us back into right relationship with Him so we can go out to serve one another. "For he says: 'In an acceptable time I heard you, and on the day of salvation I helped you. Now is a very acceptable time; behold, now is the day of salvation." Lent is the time for our hearts to be made clean so that we can freely meet Jesus and others with greater love and less judgement. May we unite together in the Heart of Jesus, with renewed spirit and be ready for radical transformation on the journey ahead.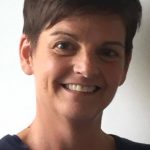 Amy Oatley is a wife, mother, and Secular Franciscan (OFS), passionate about social justice, advocating for the dignity of every human life. She encounters Christ through Prison and Jail Ministry in the Diocese of Grand Rapids and as a Sidewalk Advocate for Life. A journalist for the past thirty years, she is currently a freelance writer for FAITH Magazine and works at St. Thomas the Apostle Parish. Her home parish is Our Lady of Consolation in Rockford, Michigan.