Today's Gospel seems to unfold in a beautiful two-part symphony with the doctrine of the Trinity being the prologue and relationship with the Trinity being the crescendo.
Beginning with the doctrine of the Trinity, one could explicate at length about this great mystery, and many have. The Trinity is the central mystery of the faith, as he is revealed through the Old and New Testament. God the Father is revealed as the first origin of everything and as a loving God to all his children. The New Testament then reveals Jesus, the Son of God, who is consubstantial or one and the same God. The Holy Spirit is then introduced by Jesus as a third person of the Trinity who is to be an advocate for all mankind. These teachings lead to the unveiling of God's innermost secret, "God himself is an eternal exchange of love, Father, Son and Holy Spirit, and he has destined us to share in that exchange." -CCC #221
The Trinity can be explained even further through divine revelation as being one God in three persons. These persons are actually distinct from one another and at the same time each of them is God, whole and entire. The distinction of persons in the Trinity rests in their reciprocal relationship to one another, the Father to the Son, the Son to the Father, and the Holy Spirit to both.
All of this is great if you are writing a dissertation on The Trinity, but as I have struggled with my entire life, at some point we need to move from knowledge to relationship. This is what we call faith, and the link between faith and reason is such that we can come to know God through our intellect, but we love him through faith. This is why the notion that faith is blind acceptance to something we cannot know is just silly. Faith is not only reasonable but it is supra-reasonable. That is to say, it goes beyond what we can possibly know by ourselves.
Think about going on a blind date with someone. You may look up all sorts of things about them before the date. You are gathering knowledge which can be very helpful as a beginning step. But at some point, that person will sit down and reveal themselves to you and it's at this point you will decide whether or not to put your faith and trust in them or not. It's the same with God. Through the Catholic Tradition we are not afraid of the intellectual process, just take one peak at Aquinas, but at some point we must go beyond reason and allow God to reveal himself to us. Even Aquinas after seeing the vision of God said all his works were straw in comparison.
I write all this today because I need the constant reminder and I hope it can be a reminder to you. I hope it reminds us all that we should learn as much as we can about God but at the same time we should listen as he reveals who he truly is in the depths of our hearts. Let's all pray for the grace to go from information to transformation in our walk with the Lord.
"The ultimate end of the whole divine economy is the entry of God's creatures into the perfect unity of the Blessed Trinity. But even now we are called to be a dwelling for the Most Holy Trinity: 'If a man loves me', says the Lord, 'he will keep my word, and my Father will love him, and we will come to him, and make our home with him.'" -CCC 260
"O my God, Trinity whom I adore, help me forget myself entirely so to establish myself in you, unmovable and peaceful as if my soul were already in eternity. May nothing be able to trouble my peace or make me leave you, O my unchanging God, but may each minute bring me more deeply into your mystery! Grant my soul peace. Make it your heaven, your beloved dwelling and the place of your rest. May I never abandon you there, but may I be there, whole and entire, completely vigilant in my faith, entirely adoring, and wholly given over to your creative action." -CCC 260
From all of us here at Diocesan, God bless!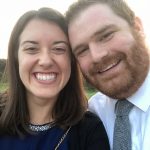 Tommy Shultz is a Business Development Representative for Diocesan. In this role he is committed to bringing the best software to dioceses and parishes while helping them evangelize on the digital continent. Tommy has worked in various diocese and parish roles since his graduation from Franciscan University with a Theology degree. He hopes to use his skills in evangelization, marketing, and communications, to serve the Church and bring the Good News to all. His favorite quote comes from St. John Paul II, who said, "A person is an entity of a sort to which the only proper and adequate way to relate is love."
Feature Image Credit: Patrick Tomasso, https://unsplash.com/photos/Oaqk7qqNh_c