"Christ became obedient to the point of death, Even death on a cross. Because of this, God greatly exalted him And bestowed on him the name which is above every other name."
As a little girl, I remember wondering why in the world we called this day of Jesus' death "Good Friday". How can the death of God be a good thing? As I've gotten older, I've come to understand that the word "good" is not referring to the events of that day over 2000 years ago but to the effects that day had that are still important even now, over 2000 years later.
The "good" is a result of God's love for us, for God is Love itself.
If God is love and Jesus Christ is God incarnate, then that means that Love itself died on the Cross for us. Love cried in the garden, Love was betrayed, Love was scourged, the weight of the Cross was put on the shoulders of Love. Love walked to Calvary, Love was crucified. Love bled. Love died.
John's account of Christ's passion, the one we hear today, tells of the soldier who pierced Christ's side, and that "immediately blood and water flowed out." One of my theology teachers in high school shared something about this passage that has really stuck with me over the years. He told us that, medically, it is possible to die of a broken heart. He said, that what happens is the heart experiences a traumatic event and the plasma, which has the appearance of water, separates from the blood. He went on to say that the weight of our sins and the pain of the Cross would have caused this type of traumatic event and Christ may have died of a broken heart. Now, I'm not sure whether or not that's accurate, but either way, it's a hauntingly beautiful image that helped me understand the depth and fervency of God's love for us.
In Jesus' pierced heart, He quite literally poured out all His love and, in doing so, He established the sacraments of Baptism and the Eucharist. By washing ourselves in Baptism, and by consuming His body in the Eucharist, we enter into the life of Christ. That is the way He brings us into His very being and transforms everything into His glory. We are able to partake in His Goodness because of His Passion and through His Resurrection.
This Triduum, may we look upon the Cross and upon the wounds of Christ and know perfect love.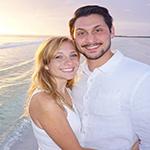 Dakota currently lives in Denver, CO, is studying for her Master's in Spanish, and loves her job as an elementary school librarian. She is engaged to the love of her life, Ralph. In her spare time, she reads, goes to breweries, and watches baseball. Dakota's favorite saints are St. John Paul II (how could it not be?) and St. José Luis Sánchez del Río. She is passionate about her faith and considers herself blessed at any opportunity to share that faith with others. Check out more of her writing at https://dakotaleonard16.blogspot.com.