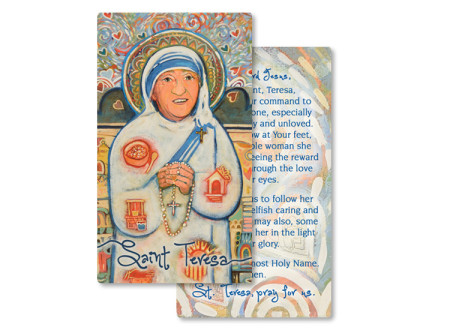 Quick View
Mother Teresa was a woman in the world, but not of the world. She belonged solely to the heart of Jesus. May her life and work inspire you and your parish family to emulate her fervent love of Christ in everyone she met. These premium cards are professionally printed on quality, heavy card stock. They are conveniently sized at 2" x 3.5." This makes them the perfect size for your prayer book, pocket, purse or wallet. The glossy, UV finish makes our prayer cards more durable and will last longer under normal usage.
Signature Artist Series Jen Norton
We are pleased to offer this exclusive Mother Teresa banner by Catholic artist Jen Norton as the premiere piece of our Signature Artist Series.
According to her website
, Ms. Norton "believes that through art, one can hear the whisper of a mighty Creator." Her passion for color and stories shines through in this exquisite portrayal of the Church's newest saint. This joyful representation of Mother Teresa will certainly be a welcome part of your personal prayer life and a faith community's atmosphere for years to come.
Continue reading