Our Catholic Appeal – Feb 18 ENG – Brevard
Our Catholic Appeal is 4-week series of date-specific two-sided English/Spanish inserts for the January 28th, February 4th, February 11th and February 18th bulletins. The February 18th insert is Deanery-specific.
Resources for your Diocese! If you wish to include the insert as part of your bulletin, you may replace regular bulletin pages with one or two pages of the insert.
If replacing regular bulletin pages is not an option for you, you may order the inserts in advance. We will then print and ship them separately to be inserted on your end. .
OUR GUARANTEE & NO-HASSLE RETURNS
read more

Talk to Customer Care at
877-212-7317
OTHER ITEMS YOU MIGHT LIKE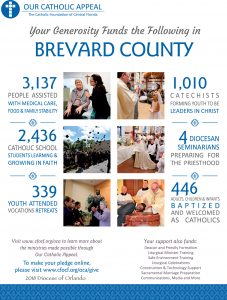 Printed in the USA
Exclusive Designs
100% Satisfaction Guarantee
Product Details
Questions & Answers
No FAQs Found