In the First Reading today, John tells us: "Do not love the world or the things of the world. If anyone loves the world, the love of the Father is not in him. . . . The world and its enticement are passing away. But whoever does the will of God remains forever."
This is a great reminder, especially as we just finished with a holiday that's very much focused on things.
It's great to receive gifts. They make us feel special, loved, valued, and important. Giving gifts is even better because we can make someone else feel special, loved, valued, and important.
But there's so much more to life and to our world. The happiness that things bring is fleeting. The joy we get from a life of faith never goes away. So let us always strive to remember that things come and go, but Christ is always there with us, even when we can't see or feel Him.
And there will be times when the things of this world get in the way of us seeing God or feeling His presence. The devil makes sure of that. It doesn't have to be bad things or times when we feel alone. We can fail to see God during the good times too.
We tend to forget that all we have comes from God. Our families, our friends, our homes, our possessions, our abilities—all those are gifts from a heavenly Father who loves us immensely. Do we thank Him for those gifts? Do we acknowledge His goodness in giving us so many wonderful things? How many of us actually took time this Christmas to slow down, think about Christ's birth, and wish Him a happy birthday? Or did we get so caught up in our world and in the craziness of the season that we only sort of remembered why we celebrate?
God wants us to remember Him during the good times and the bad. He wants us to wake up with a prayer, fill our days with prayer and good deeds for others, and go to bed thanking Him for another day and asking ourselves if we glorified Him in all we did.
Do we do that? If not, let us start today! It's never too late to change our priorities. It's never too late to allow the Word of God to fill our lives and our hearts.
A new year is coming; let us ring it in with a renewed sense of joy in the Lord. When we do so, we will realize the difference between joy and happiness. And we will understand that, while happiness waxes and wanes with our circumstances, joy in Christ never wanes. It becomes more radiant with each passing day.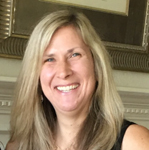 Susan Ciancio has a BA in psychology and a BA in sociology from the University of Notre Dame, with an MA in liberal studies from Indiana University. For the past 17 years, she has worked as a professional editor and writer, editing both fiction and nonfiction books, magazine articles, blogs, educational lessons, professional materials and website content. Eleven of those years have been in the pro-life sector. Currently Susan freelances and writes weekly for HLI, edits for American Life League, and is the editor of Celebrate Life Magazine. She also serves as executive editor for the Culture of Life Studies Program-an educational nonprofit program for K-12 students.
Feature Image Credit: Cathopic, https://www.cathopic.com/photo/5318-dicha-naturaleza