"Come to me, all you who labor and are burdened, and I will give you rest."
One simple Gospel verse with so much hope and longing. A perfect Gospel verse for Advent. A Gospel verse that speaks to the depth of my heart right now and hopefully one that will do the same for you. Let's break it down.
Come to me: we have to seek the Lord. He extends the invitation to us, but He never forces our hand. God desires for us to come to Him, just like He came to us in the person of His Son Jesus, but He will not take free will away from us. We have to take the step to meet Him.
All you who labor and are burdened: God's invitation is for all, not just a select few faithful followers. We all labor – in our mission of proclaiming the kingdom of God here on earth, in the day-to-day work of our careers, and in living out our vocations of single, married, priests or religious. It's not easy, and, in our labor, we encounter many difficulties and sufferings that burden us. These burdens can take many different forms. We have natural evil and suffering like illnesses, tornadoes, hurricanes, etc. Then we also have moral evil and suffering that is caused by sins such as violence, cruelty, and hatred. And STILL, God invites all of us and our mess to come to Him.
And I will give you rest: With all of our work and all of our burdens, we need rest. We think we can find rest in the things of this world: in money, clothes, food, relationships (both friendships and romantic relationships) and more. But, ultimately, all of those things will fall short as they only provide short-term happiness. We still desire something more. The root of our happiness, the root of all of our desires, is in God alone. In God, we find the peace and comfort that will fill our hearts and our cups to overflowing.
Our longing is for God, and our hope is for the rest that calms our labor and our suffering. These themes and this particular Gospel verse extend way past Advent. This hope and this longing will last for the rest of our lives.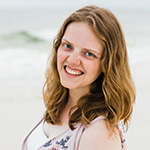 Erin is a Cleveland native and graduate of the Franciscan University of Steubenville. Following graduation, she began volunteering in youth ministry at her home parish of Holy Family Church. Her first "big girl" job was in collegiate sports information where, after a busy two years in the profession on top of serving the youth, she took a leap of faith and followed the Lord's call to full-time youth ministry at St. Peter Church. She still hopes to use her communication arts degree as a freelance writer and statistician, though. You can catch her on the Clarence & Peter Podcast on YouTube as well as follow her on Twitter @erinmadden2016.