Today's reading from Jeremiah reminded me of my high school days. Youth group member, Steubenville retreat attendee, daily-Mass-going 14-year-old me thought she was holier than thou. I prided myself in following the rules, getting good grades and being a teacher's pet. Even amidst the hormone shifts of teenage-hood I had permitted not a single curse word to escape my lips. In fact, when someone in the locker next to me dared to swear, I would be so bold as to speak up "please don't use those words", and then I would turn on my heels and walk away. I had few friends and of course not a single classmate approached this goodie-two-shoes with offers of "a good time." I felt much like Jeremiah did being verbally attacked and snickered at. Indeed, why should good be repaid with evil?
As I left that atmosphere to dedicate a portion of my teen and young adult years to the missions, I learned that my behavior had more to do with my own insecurity than being truly holy. I clung to religion as my stronghold, followed the rules because of their consistency and familiarity. I remember thinking in those days that I had learned it all regarding my faith. I had already received the Sacraments, was familiar with a good portion of the Bible, had the Mass and many of the familiar hymns memorized… I was going to be SO BORED for the rest of my life with nothing new to learn. Boy was I wrong! I was missing one of the most important elements.
The Psalm declares steadfast trust in the Lord stating firmly: "You are my God" and speaks of His unfailing love. Did snappy requests in front of a locker speak of unfailing love? Not likely. Did gaining favor with every adult figure speaking of steadfast trust? Probably not. Did clinging to rules show God that He was mine? Nope. Like the mother of James and John in the Gospel, I was searching for greatness, albeit holy greatness, when I should have been seeking servitude. I love that quote from St. Francis that says "Preach the Gospel always, when necessary, use words" because it is a lesson that I still have not learned. I long for my relationship with God to be my all, my one and only, the reason to awaken each morning, what eeks from my very being day after day. Yet I have so far to go.
I am so grateful for this season of Lent that affords us such a great opportunity to return to God with our whole hearts. Perhaps this year I will take one step forward in my relationship with my God, my Creator, my Love, my All. "Into your hands, I commit my spirit; deliver me, Lord, my faithful God." (Psalm 31:5)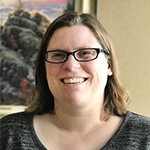 Tami grew up in Western Michigan, a middle child in a large Catholic family. Attending Catholic schools her whole life, she was an avid sportswoman, a (mostly) straight A student and a totally type A sister. She loves tackling home projects, keeping tabs on the family finances and finding unique ways to love. She spent early young adulthood as a missionary in Mexico, studying theology and philosophy, then worked and traveled extensively before finishing her Bachelor's Degree in Western Kentucky. Her favorite things to do are finding fun ways to keep her four boys occupied, quiet conversation with the hubby, and grocery shopping with a latte in her hand. She works at Diocesan, is a guest blogger on CatholicMom.com and BlessedIsShe.net, runs her own blog at https://togetherandalways.wordpress.com and has been doing Spanish translations on the side for the past 18 years.