"How easily we could win Heaven day by day just by doing what we have to do — but doing it for God!" -St. John Vianney
In today's Gospel, we hear the end of Jesus' Sermon on the Mount. The first words we hear are powerful and clear: "Not everyone who says to me, 'Lord, Lord,' will enter the Kingdom of heaven, but only the one who does the will of my Father in heaven." Later, Jesus uses the analogy of a house built on a rock–a strong foundation. Those who build their houses on rocks are safe and protected from dangers such as floods and winds. Those who build their houses on sand–a weak foundation–however, are susceptible to those dangers. In a homily on this Gospel, Pope Francis distinguishes between "Christians of words" and "Christians of action and of truth". The "Christians of words" are those that say "Lord, Lord" but do not bear witness to those words with their actions; these Christians build their houses on sand. The "Christians of action and truth" are those that bear witness, through their actions, to the Truth of Christianity; these Christians build their houses on rock.
We were made to know, to love, and to serve God. It is part of our nature to follow His will. Yet, how often do we find ourselves saying the words but not following them with our actions? St. Teresa of Avila, in The Interior Castle, wrote "What value is there in faith without works? And what are they worth if they are not united to the merits of Jesus Christ, our only God?" Christ died on the Cross to save us from our sins. He did not simply say, "You are saved". Rather, He became man, suffered persecution, and ultimately sacrificed His life for our sake. He is asking us to follow His example. He showed His love for us through His words and His actions. So too should we show our love for Him and be "Christians of action and truth".
May we remain set solidly on the rock that is Christ and the Church and may we put our trust in the One who gave His life for our Redemption.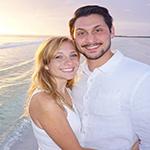 Dakota currently lives in Denver, CO and teaches English Language Development and Spanish to high schoolers. She is married to the love of her life, Ralph. In her spare time, she reads, goes to breweries, and watches baseball. Dakota's favorite saints are St. John Paul II (how could it not be?) and St. José Luis Sánchez del Río. She is passionate about her faith and considers herself blessed at any opportunity to share that faith with others. Check out more of her writing at https://dakotaleonard16.blogspot.com.