At significant moments in the Gospels, Jesus weeps. He weeps at the sight of his friend Lazarus dead in his tomb. He weeps when praying in the garden the night before his crucifixion.
It is not insignificant then that, in today's Gospel, Jesus wept over the city of Jerusalem. Why? He knew the coming hurt, the impending destruction, that the city would experience, referring to the takeover by the Roman Empire in 70 AD.
Jesus wept for more than just that, though. He wept because Jerusalem did not know peace. The city did not accept peace, did not accept Jesus – the one who brings peace. Because of this, the city would be destroyed as was so foretold in verses 43-44 of the Gospel.
Do we know peace in today's society? As a general rule of thumb, do we accept Jesus? It breaks my heart to say – no, I don't think so. In fact, I see more division and discord, signs of a lack of peace. I see more and more rejection of Jesus than ever before.
Jesus weeps.
He weeps when brother turns against brother. He weeps when hatred is sown in the hearts of men and directs our actions. He weeps when wealth, fame and power are held in a higher regard than He is. He weeps when we choose the things of this world more often than Him. He weeps at our sinfulness.
That is not the end of the story, though. Jesus died on the cross to save us from our sins. So while He may weep when we sin against Him, Jesus opens up His arms and extends His mercy to us. He does this over and over and over again, no matter how many times we sin.
I've written several times about sin and the mercy available in the Sacrament of Reconciliation. What I wish to leave you with today is this – to pray for the openness to see the effects of our sins, especially how it hurts the Lord. See how Jesus weeps that we may, in turn, weep for the way we've hurt Him with our sin. Then run to His grace and mercy in Confession.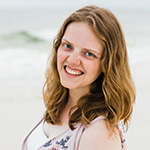 Erin Madden is a Cleveland native and graduate of Franciscan University of Steubenville. She is passionate about the Lord Jesus, all things college sports and telling stories and she is blessed enough to get paid for all three of her passions. You can catch her on old episodes of the Clarence & Peter Podcast on YouTube as well as follow her on Twitter@erinmadden2016.
Feature Image Credit: Gadiel Lazcano, https://unsplash.com/photos/ulPAVuxITEw