"Behold, I am sending you like sheep in the midst of wolves; so be shrewd as serpents and simple as doves" (Matt. 10:16). As we approach Holy Week, we follow Jesus into His most intense encounters with those who seek His life. Today, we see the example of Jeremiah, one of the many Old Testament figures who foreshadows Christ's sufferings. "All those who were my friends are on the watch for any misstep of mine" (Jer. 20:10). Jesus' friends are beginning to turn against Him, and soon one of His own apostles will betray Him. But just as He counseled these same apostles in Matthew 10:16, He is conducting Himself with both shrewdness and simplicity.
As St. John Chrysostom, one of the Fathers of the Church, points out, the combination of serpent and dove is what the Christian ought to be. Like the dove, he ought to be innocent enough to gracefully bear the attacks of his persecutors, keeping his peace. But like the serpent, he ought to be prepared to let everything go, even to the point of letting himself be cut into pieces, so long as he keeps his head. If he learns from the serpent, he can suffer intense persecution, giving up money, the body, and even life itself, maintaining his faith. From the dove, he complements this courage with innocence.
With these reflections, St. John Chrysostom explains the Christian in adversity, and we see the same thing lived out in Jesus' conduct. Jesus knows that He is innocent, and conducts Himself simply: He refutes the slander of His enemies, but does not defend Himself physically or push further when it is clear that they will not listen. Because it is not yet His time, He escapes from their grasp and maintains His peace, moving about freely and not getting caught up in anxiety. When the time comes, and it will come very soon, He will present Himself ready for the most intense trial of all: torture and death. He will courageously let everything go, all the while maintaining His dignity and holiness.
This can be applied to all of us in our pursuit of holiness. Some of us may run from conflict, seeking the comfort of banal conversation where we do not have to risk suffering for our Faith. Others may be so intent on defending the Faith that they start conflicts, forcing the issue and bringing up controversial things in an effort to get to the important things. The Christian should have a balanced approach, learning from the serpent and the dove, but above all learning from the example of Christ. He never shrank from speaking the truth in charity, doing God's will in every context, no matter what the people thought of Him. He was wise and courageous as the serpent, doing all this even when He knew it would lead to struggle. Finally, when the time came, He endured the persecution that awaited Him gracefully, accepting the trials of the Christian with innocence and simplicity.
As we approach the culmination of our Lord's earthly ministry, let us strive to spend our Easter and our entire lives imitating His example. Let us be shrewd as serpents and simple as doves, bearing persecution patiently and without fear, unto death if called.
---
"He aquí, os envío como ovejas en medio de lobos; así que sed astutos como serpientes y sencillos como palomas" (Mat 10,16). A medida que nos acercamos a la Semana Santa, seguimos a Jesús en sus encuentros más intensos con aquellos que buscan su vida. Hoy vemos el ejemplo de Jeremías, una de las muchas figuras del Antiguo Testamento que anuncia los sufrimientos de Cristo. "Todos los que eran mis amigos espiaban mis pasos, esperaban que tropezara y me cayera" (Jeremías 20:10). Los amigos de Jesús están comenzando a volverse en su contra, y pronto uno de sus propios apóstoles lo traicionará. Pero tal como aconsejó a estos mismos apóstoles en Mateo 10:16, se conduce con astucia y sencillez.
Como señala San Juan Crisóstomo, uno de los Padres de la Iglesia, la combinación de serpiente y paloma es lo que debe ser el cristiano. Como la paloma, debe ser lo suficientemente inocente para soportar con gracia los ataques de sus perseguidores, manteniendo su paz. Pero como la serpiente, debe estar dispuesto a dejarlo todo, hasta el punto de dejarse cortar en pedazos, mientras mantenga su cabeza. Si aprende de la serpiente, puede sufrir una intensa persecución, renunciando al dinero, al cuerpo y hasta a la vida misma, manteniendo su fe. De la paloma, complementa este coraje con la inocencia.
Con estas reflexiones, San Juan Crisóstomo explica al cristiano en la adversidad, y lo mismo vemos vivido en la conducta de Jesús. Jesús sabe que es inocente y se comporta con sencillez: refuta las calumnias de sus enemigos, pero no se defiende físicamente ni va más allá cuando es evidente que no le escucharán. Como aún no es Su tiempo, escapa de sus manos y mantiene Su paz, moviéndose libremente y sin dejarse atrapar por la ansiedad. Cuando llegue el momento, y llegará muy pronto, se presentará dispuesto para la prueba más intensa de todas: la tortura y la muerte. Valientemente dejará que todo se vaya, mientras mantiene Su dignidad y santidad.
Esto se puede aplicar a todos nosotros en nuestra búsqueda de la santidad. Algunos de nosotros podemos huir del conflicto, buscando el consuelo de una conversación banal donde no tenemos que arriesgarnos a sufrir por nuestra fe. Otros pueden estar tan decididos a defender la Fe que inician conflictos, forzando el tema y sacando a relucir cosas controversiales intentando llegar a las cosas más importantes. El cristiano debe tener un enfoque equilibrado, aprendiendo de la serpiente y la paloma, pero sobre todo aprendiendo del ejemplo de Cristo. Nunca rehuyó decir la verdad en la caridad, haciendo la voluntad de Dios en cada contexto, sin importar lo que la gente pensara de Él. Era sabio y valiente como la serpiente, haciendo todo esto incluso cuando sabía que lo llevaría a la lucha. Finalmente, llegado el momento, soportó con gracia la persecución que le esperaba, aceptando con inocencia y sencillez las pruebas del cristiano.
A medida que nos acerquemos a la culminación del ministerio terrenal de nuestro Señor, esforcémonos por pasar nuestra Pascua y toda nuestra vida imitando Su ejemplo. Seamos astutos como serpientes y sencillos como palomas, soportando la persecución con paciencia y sin temor, hasta la muerte si sea necesario.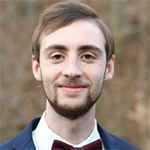 David Dashiell is a freelance author and editor in Nashville, Tennessee. He has a master's degree in theology from Franciscan University, and is the editor of the anthology Ever Ancient, Ever New: Why Younger Generations Are Embracing Traditional Catholicism.
Feature Image Credit: Rita Laura, https://cathopic.com/photo/10033-espiritu-santo