St. Paul had a vision, "A Macedonian stood before him and implored him with these words, "Come over to Macedonia and help us." When he had seen the vision, we sought passage to Macedonia at once, concluding that God had called us to proclaim the Good News to them" (Acts 16:9). Perhaps you've not had a dream, but have you ever felt a nudge from the Holy Spirit for you too to share the Good News? Did you respond to the prompt, or did fear or uncertainty keep you from witnessing to your faith?
There are many ways to share the good news without a heroic trip across an ocean or to far-off lands. We can evangelize in our homes, families, or communities with genuine, often uncomplicated gestures. Here are a few suggestions:
Invite someone to Sunday Mass (if you can, include breakfast to continue building your relationship with this person, which will make discussions about faith easier. It may also create a comfortable atmosphere where you can discuss something you heard in the readings or homily).

Not sure who to invite? Simply share your parish's Mass schedule on your social media. You never know how the Holy Spirit might use that post to reach people seeking to find a church. We can share many things on social media to inspire and encourage people to grow in faith — Scripture verses, saint quotes, or prayers.

Consider starting a Christian book club or Bible study in your home or parish. Pick a book you are interested in, then ask a friend or two, "for where two or three are gathered in my name, there am I in the midst of them" (Matthew 18:20).

Offer to pray for people. Whether in person as someone is sharing a current difficulty or challenging situation, or you read it on social media. If you make a weekly Eucharistic Adoration hour, consider posting a request for prayers. I've done this for years and typically receive over a hundred prayer requests each time I do. While the idea of praying for so many might seem daunting but it is actually quite humbling and beautiful. I bring my phone into Adoration and scroll through the list offering each intention to the Lord. This activity has also provided the avenue to numerous incredible faith conversations.

Pray for the Lord to make a way to share the Good News and in the expectation that one day He will "be prepared to make a defense [testimony] to any one who calls you to account for the hope that is in you, yet do it with gentleness and reverence" (1 Peter 3:15). Don't be afraid of what to say; just like the Lord prepared the prophet, Jeremiah, He too will put the words in your mouth.

Forward videos, articles, or blogs that touched your heart to someone you think might also be blessed to read and receive that particular message.
If you are not comfortable or not quite ready to evangelize in these public ways, there is still something significant you can do—pray. Keep friends, family, and even strangers in prayer, without being asked or with anyone even knowing. Prayer, invoking the Holy Spirit, is a powerful gift the Apostles modeled for us. Seek the intercession of the Blessed Mother and as many Saints as you need. Just as the Spirit guided the early disciples to know where to go and when and with whom to speak, trust He is still at work and will guide you in the same way.
In the end, the best witness of faith is always how you live, especially when you allow the joy of the Lord to shine through your words and actions. There is a time to speak and a time to stay silent; you need not wonder or worry about which the Spirit is calling you. If you remain prayerfully open to where He moves you, the answer and the action will always be apparent.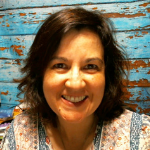 Allison Gingras is a Deacon's wife and seasoned mom of three. Allison works for Family Rosary as a social media and digital specialist, as well as a new media consultant for Catholic Mom and the Diocese of Fall River. She is the author of Encountering Signs of Faith: My Unexpected Journey with Sacramentals, the Saints, and the Abundant Grace of God (Fall 2022, Ave Maria Press). Allison developed the Stay Connected Journals for Women series including her two volumes – The Gift of Invitation and Seeking Peace (OSV). She's hosted A Seeking Heart with Allison Gingras podcast since 2015.
Feature Image Credit: Priscilla Du Preez, https://unsplash.com/photos/K8XYGbw4Ahg?utm_source=unsplash&utm_medium=referral&utm_content=creditShareLink
The views and opinions expressed in the Inspiration Daily blog are solely those of the original authors and contributors. These views and opinions do not necessarily represent those of Diocesan, the Diocesan staff, or other contributors to this blog.