"Have I no right to do what I like with my own? Why should you be envious because I am generous?"
As a cradle Catholic, I've found myself getting envious of people who are non-Catholic. Watching non-Catholics get to do whatever they want starts to wear on you if you're not careful. The devil deceives us to think we are somehow disenfranchised by living a moral life.
At parties we're the only one out of our friends who feels guilty for drinking too much. We don't get to use birth control like other couples who "have it together" and get to do "whatever they want." We must stay chaste while dating (and while married). We're required to go to Mass on Sunday so we have to take off work or miss the pre-game tailgate. We don't get one of those juicy burgers that the company bought everyone because it's a Friday in Lent.
Everything in life has to be fair. As small children, we want our turn on the swing. As adults, we don't want people cutting in line outside of the Apple Store.
Being a Catholic isn't a punishment. We are the ones who are free. The rest of the world is a slave to their passions. They don't get to live the life they want. So many people struggle with addiction, broken families, and habitual sin. Many of them don't know there is a God who created and loves them. Can you imagine struggling without the Sacraments? We are the ones who are free. The rules of the Catholic Church are a gift, they are a universal Truth and it is when we follow that order that we show God we love him.
It's a tendency of human nature to begin thinking we are held captive to God's rules so we check the boxes grudgingly. It might be something small, but before we know it we start to think we're hot stuff. It's easy to get into an elitist mindset. We begin to think we are God's chosen people: Look at all these holy things I do.
From there, our next step in our flawed human logic seems to be: so what's in it for me? So God, I've been good. Now what special thing do I get?
Putting in more "hard time" of following the laws of Christ doesn't mean we're the only ones who get to heaven. If we go to Church more than our friends that doesn't make us holier. We should hope and pray that God's Mercy showers down upon them and they too are granted heaven in spite of their ignorance and sin.
Love doesn't expect anything in return. It gives freely. Do we only love God because of what we hope to get out of him or is it because we're in love with the Creator of the Universe? Do we attend Mass to avoid Hell or because we want to be with Him forever?
We often apply human attributes to God. We turn God into someone like ourselves. Someone who gets jealous or prideful. We are stingy. God is not. It's a good thing God is as merciful as he is, because we all need it. Especially if we don't have the Truth of the Gospel.
Having the Truth of the Gospel is a gift and it's our responsibility to share that gift with others whenever we can. We have no business keeping it to ourselves.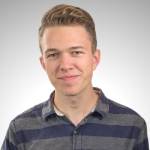 Patrick produces YouTube content for young Catholics on Catholic Late Night and Overt TV. He loves using humor to share the Truth of the Catholic faith with anyone who will listen. He resides currently in Chattanooga, TN and is a parishioner at The Basilica of Sts. Peter and Paul. Patrick graduated from Franciscan University of Steubenville with a degree in Communication Arts and a Minor in Marketing.