"Let me, my Jesus share in Thy suffering, at least one of Thy thorns." – Saint Rita of Cascia
Jesus' words in today's gospel seem near impossible for any regular man to act. He tells us to love our enemies, stop judging, be merciful; we are still sinful and fallen. Alone, we cannot live a life of virtue that allows us to be kind and forgive those who do wrong.
However, Jesus gives us the gift of His saints whose virtuous lives can serve as a witness to us. For instance, He gives us St. Rita, whose feast we celebrate today.
St. Rita is the patron saint of impossible causes with St. Jude. Her life is a reflection of what Christ speaks about in the gospel. St. Rita was born in 14th century Italy. She had a deep desire to love the Lord and become a nun. As a child, she showed extraordinary piety and deep love for prayer.
But instead, her family married her off to a harsh and cruel man, named Paolo Mancini, whom she was married to for 18 years. She bore him two sons. Paolo was well known for his bad temper. He was often abusive, and Rita watched helplessly as her sons fell to their father's influence.
She prayed unceasingly that the Lord speak to Paolo's conscience and spare her sons from inheriting her husband's rage. Eventually, Paolo had a change of heart and begged forgiveness from those whose suffering he caused.
However, Paolo had many enemies and one day, he was ambushed and killed. St. Rita's sons vowed to avenge their father's death through killing the men who killed him, but Rita prayed for them not to destroy their souls by taking another life. She gave the Lord permission to even kill them himself if it meant that their souls would be saved.
Her sons died of natural causes when they were teenagers not long after their father's death. St. Rita nursed them, and they asked for forgiveness. She went on to also forgive the men who murdered her husband by going out and mending the hostility between her husband's killers and his remaining family.
After losing her husband and sons, Rita joined the Augustinian nuns.
She meditated frequently on Christ's passion, uniting her sufferings to His on the Cross. One day, she prayed so fervently and begged the Lord to share with her some of His pain. One of the thorns from the crucifix she prayed before loosened and implanted itself deep into her forehead.
During her time in the convent, she prayed for the souls of her husband and sons, as well as for those who did her wrong.
St. Rita died, and her body has remained incorrupt and is venerated today.
She is the patron saint of impossible causes, difficult marriages, infertility, and parenthood.
St. Rita is a teacher on how to love your enemies. Not only did she forgive their wrongs, but desired heaven for them. She looked to Jesus' example from the cross when he asked God the Father to forgive those who crucified him.
When we are angered by what we see on our social media feeds, or see injustice in the world, let us remember to pray like St. Rita did and trust that God will be victorious in the end.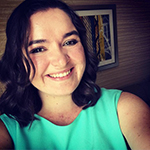 Hannah Crites is a native to Denver Colorado and graduate of the Franciscan University of Steubenville. She has written for numerous publications and blogs including the Chastity Project, Washington Times, Faith & Culture: The Journal of the Augustine Institute, and Franciscan Magazine. She is currently working in content and digital marketing for a small web development and digital marketing agency. Connect with her through Twitter (@hannah_crites) and Facebook. Check out more of what she has written at https://hannhcrites.com/.