Some years ago I became the legal guardian of an elderly woman who was showing early signs of dementia. We had known each other for some time, liked each other, and she had no family, so it made sense. And as time passed and the dementia increased, I helped juggle visiting nurses, health aides, and people to shop and clean for her.
But I did it from a distance. I had moved to Boston in order to work with the Daughters of St. Paul at Pauline Books and Media. I was thrilled to become part of the sisters' media apostolate and to put my skills to good use—working for Jesus. It was a dream come true. I wanted to stay there forever.
Still, I had this obligation, this responsibility. And as time passed, it became clear to me that my elderly friend needed more—more support, more help, more presence. I struggled with it, struggled with God; surely he wanted me to stay where I was! But it became increasingly clear to me that this responsibility I'd taken on was bigger, more pressing, than my personal preferences and desires.
I was thinking about that situation when I read today's lessons. They are truly about being sent out into the world, sent somewhere one might prefer not to go, because it is the right thing to do.
In the wake of Judas' suicide and Jesus' resurrection, a replacement for the former apostle had to be found in order to accomplish the Great Commission. One wonders how the "brothers" Paul talks about were feeling as Peter stood up and announced the need to fulfill the Scripture by appointing someone to take Judas' place. These were people who had accompanied Jesus throughout his ministry, who knew him well: were they eager to be chosen? Or did they think about the magnitude of the task ahead and hope they wouldn't be selected?
Two men were put forward for the task: the thrice-named "Judas called Barsabbas who was also known as Justus" and Matthias. The group prayed to be shown the way and eventually were led to select the latter. We're not told how Matthias felt about this honor. Surely it was a blessing to be chosen as one of the Twelve… but, given the job ahead and the world in which they lived, it was a blessing that came at a cost. Probably not the life Matthias had imagined for himself moving forward.
In the Gospel reading, Jesus reminds us as he prays that we are not of this world, that we are here on a journey that has an ultimate destination. We may all be aware of keeping our eyes fixed on heaven, but Jesus is also reminding us we're not there yet. The journey is still in progress. "As you sent me into the world, so I sent them into the world." We still have places to go, commissions to fulfill.
In fact, we're often asked to go places and do things we don't want to do. But if we make our choices prayerfully, as did the disciples, we can be confident we're taking the road God is asking us to take.
And sometimes closed doors aren't… closed doors. As it turned out, I was able to fulfill my obligations to my elderly ward—even unto her death—and continue my work with the Daughters of St. Paul. We all prayed about the situation, and we were shown a way.
Going somewhere different, starting something new can be challenging and even fear-inspiring. But we're never doing it alone. And that is—thank God—everything.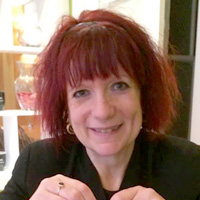 Jeannette de Beauvoir is a writer and editor with the digital department of Pauline Books & Media, working on projects as disparate as newsletters, book clubs, ebooks, and retreats that support the apostolate of the Daughters of St. Paul at http://www.pauline.org.
Feature Image Credit: Nel_Botha-NZ, https://pixabay.com/photos/open-road-future-ahead-wide-4488129/