The First Reading today seems to make the bold claim that somehow the suffering, death, and resurrection of Jesus was not enough for the sins of mankind. Of course, this is not what St. Paul is claiming, but it is very important to unpack this verse and see what he is trying to proclaim.
Is Jesus' suffering somehow lacking for the sins of mankind? The answer is a bold no. What Christ did on the cross redeems us fully and completely. Nothing is lacking in the sacrifice of the cross when it comes to redeeming us and forgiving us of sin.
So what are we to make of the First Reading? The most common interpretation of this passage is that Paul is saying God uses us and our own suffering, to bring others into the saving power of his love. Think about it, if someone has rejected God, then it may be our witness, our prayers, our own suffering, that is the nudge that may bring them back into communion with God.
This is what St. Paul is proclaiming here, not that Jesus' sacrifice is incomplete, but that the external and practical way that salvation works sometimes takes an extra push. We can be that extra nudge or push for those who are near and dear to us. Now the question is, do we do this or are we afraid?
When I was working at a parish collaborative in Michigan I once gave a talk on Catholicism and afterwards one of the parents came up to me. They said they had raised their kids Catholic but that their son no longer practiced the faith and most of their kids had fallen away over the years. They wanted to know the secret sauce to get their kids back into the Catholic faith. I simply asked when the last time was that they prayed together. The parents could not remember a time that they had ever prayed together. Now, this isn't to shame the parents, but I think it is pretty common. Do we believe in the transformative power of prayer and fasting and are we doing these things for and with our loved ones who need the love of God. St. Paul makes it clear that if we can add anything to the already perfect suffering of Christ, it's that we can help people to know that there is a God who loves them and wants to be in communion with them. Let's pray for the grace to be bold, to pray, to fast, and to help others see the love of Christ. From all of us here at Rodzinka Ministry, God bless!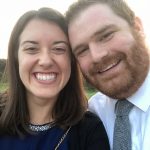 Tommy Shultz is the Founder/Director of Rodzinka Ministry and a content specialist for Ruah Woods, a Theology of the Body Ministry. In these roles, he is committed to bringing all those he meets into a deeper relationship with Christ. Tommy has a heart and flair for inspiring people to live their faith every day. He has worked in various youth ministry, adult ministry, and diocesan roles. He has been a featured speaker at retreats and events across the country. With a degree in Theology from Franciscan University, Tommy hopes to use his knowledge to help all people understand the beauty of The Faith.
Feature Image Credit: Frantisek Duris, https://unsplash.com/photos/sQ4aJOphZb4