Have you ever been one to think, "I just don't get much out of the Mass." "Why can't Jesus just walk on earth today with us?" "Where are the signs that God even exists?"
I think if we are honest with ourselves, no matter how holy we are or how many daily rosaries we recite, we have probably at one point or another had trouble with some aspect of faith. I know I have. The faith can be hard sometimes because we want assurance and proof of the things we believe. Even the Church admits this fact. In the Tantum Ergo, the song we sing during adoration, we hear, "Faith will tell us Christ is present when our human senses fail." Mother Church, in all of her wisdom, knows that The Faith is hard to believe at times.
It was hard to believe during the time of the prophet Jonah as well. In the first reading, we hear of a land that has given themselves over to sin; their faith has weakened them to the point that they no longer believe they need God. They treat him as a distant being that doesn't care if he exists at all, and they persist in their sinful ways. We all know the story of Jonah. He is swallowed by the whale because he doubts God, and then is spit out and goes to preach to the Ninevites about the power of God. He is the sign that allows them to break their sinful ways and turn to the Lord.
Fast forward to today. Remember when I asked if we have ever struggled with doubt? Well, the reality of the Gospel today is that we don't have Jonah as a sign, we have Christ himself. Christ literally walked this earth, ate food, played with friends, built things with his hands, and ultimately died on a cross for us. The historical evidence for Jesus is staggering, but beyond that, he promised to stay with us in the Eucharist. If a story about a fish was enough for the Ninevites to turn from their sinful ways, what are we waiting for? We have Christ himself. We have the one that Jonah could only prophesy about.
The faith can be difficult to believe at times because of our own weakness, but it's in times like these that we should lean all the more on Christ. We should ask for the grace of faith. We should ask for a faith that is able to move mountains. And when this faith is given, our personal faith comes alive. Not because we heard a story about a fish, or a kid slaying a giant, or man being healed, but because we have experienced the Lord. We have felt him. We have touched him, and he has touched our hearts. I encourage you during this Lenten season, to allow Jesus to be the sign that transforms you and turns you from your sinful ways. God Bless and know of my prayers for you.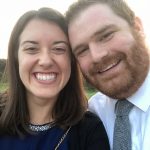 Tommy Shultz is Director of Evangelization for the North Allegan Catholic Collaborative and the founder of Rodzinka Ministries. In these roles, he is committed to bringing all those he meets into a deeper relationship with Christ. Tommy has a heart and a flair for inspiring people to live their faith every day. He has worked in various youth ministry, adult ministry, and diocesan roles. He has been a featured speaker at retreats and events across the country. His mission and drive have been especially inspired by St. John Paul II's teachings. Tommy is blessed to be able to learn from the numerous parishes he visits and pass that experience on in his presentations. With a degree in Theology from Franciscan University, Tommy hopes to use his knowledge to help all people understand the beauty of The Faith.