In today's First Reading, we hear of Paul and Silas in their missionary travels, coming to the city of Phillipi. There they meet up with Lydia, a woman who sells purple cloth. Purple is the color of royalty. Lydia is most likely very well to do and sells purple cloth to the rulers in the area. Upon meeting Paul and Silas, she "opened her heart to pay attention to what Paul was saying." Later, she is baptized a Christian and welcomes Paul and Silas into her home. Her home becomes one of the first house churches of the area.
While reflecting on the story of Lydia, I recalled a time in my own life when I opened my heart and home to another, truly paying attention and allowing myself to be transformed. Several years ago, while attending graduate school at the Franciscan School of Theology in Berkeley, California, I went to a local craft fair. There I met a young man named Kekoa from Hawaii, who traveled around the country selling beautiful hats that he had woven out of palm leaves, adorned with flowers and flying fish. Selling these hats was his livelihood. I discovered that he did not have a place to stay and invited him to stay at my home. He accepted the offer and our time together was delightful, one of genuine conversation which is hard to come by this day and age.
Soon, he went on his way to the next city to sell his wares, but I was changed. The joy that exuded from Kekoa was contagious, and I imagine it being similar to the joy of Paul and Silas, who preached of Jesus crucified and then risen from the dead. While my response was not baptism, like that of Lydia's, I emerged from the exchange a different person. I have come, in my own faith journey, to realize that church is not only a place that we worship on Sundays, but is how we treat one another every day, including welcoming the strangers in our midst. We are called to reach out to those around us.
With cell phones at our side and notifications and emails popping up all over the place, the gift of being present to another is becoming a lost art. We are a very distracted people, often not truly in tune to those persons in our midst. We may look interested, but are we truly paying attention?
Today, I still have the hat that I purchased from Kekoa, and it is much more than something that provides shade. Rather, it is a reminder to me of what is possible if we take the time to listen to one another, allowing their stories and the fabric of their lives to flow through our very beings.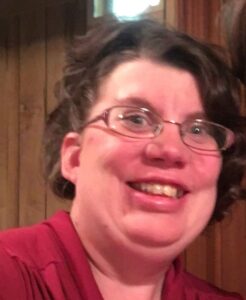 Monica Edgar enjoys spending time with her two children, Fiona and Will, and her husband, Carl. Prior to moving to Montana in 2005, she studied at the Franciscan School of Theology in Berkeley, where she obtained a Masters in Ministry for a Multicultural Church. She is very blessed to be a part of Saint Mary Catholic Community in Helena, Montana, where she serves as a lector and minister of hospitality. In her free time, she enjoys going out for coffee with friends, taking walks, and her new found hobby of knitting.
Feature Image Credit: By Author