Today's Gospel Acclamation is one of my favorite verses in the Bible: "Jesus Christ became poor although he was rich, so that by his poverty you might become rich." In this verse from Corinthians, we are reminded of the way Christ sacrificed Himself for our sake. He humbled Himself – He took on the poverty of humanity – in order that we might share in the richness of Heaven.
This verse, which prepares us for the words of the Gospel, also reminds us that, in His humility, Christ Jesus allowed us to know His heart intimately. In the Gospel, Christ is calling us to follow in His footsteps, humble ourselves, and let Him know our own hearts intimately. The question is: How do we do that? Well, if we listen to this particular Gospel, we get the answer! We must be faithful in small things because that shows that we will also be faithful in big things.
I think the bigger question, at least for me, is: How do we do this in our everyday lives? I think the small things are the things we don't think about: When we wake up and take a minute to thank God for allowing us another day, when we put something away that our spouse or our children left out, when we say a short prayer at the sound of an ambulance siren, when we smile at a stranger. All of those things are small ways in which we can show the love of Christ to others. Those things all create a habit of virtue which then allow us to do the big things: Go to Mass without hesitation not only on Holy Days of Obligation but other days as well, go to confession regularly, challenge the ones with love to be faithful, improve our prayer life, actively seek further knowledge in the faith. When we are faithful in the small things, we learn how to be faithful in the big things. When we allow the light of Christ to shine through us in our everyday lives and in our everyday interactions, we can truly live out the saying: "Preach the Gospel at all times, use words when necessary".
May we continually humble ourselves at the foot of the cross so that we may gain the richness of Heaven and be united in Christ with great joy.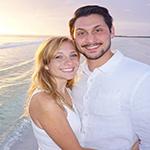 Dakota currently lives in Denver, CO and teaches English Language Development and Spanish to high schoolers. She is married to the love of her life, Ralph. In her spare time, she reads, goes to breweries, and watches baseball. Dakota's favorite saints are St. John Paul II (how could it not be?) and St. José Luis Sánchez del Río. She is passionate about her faith and considers herself blessed at any opportunity to share that faith with others. Check out more of her writing at https://dakotaleonard16.blogspot.com.
Feature Image Credit: Policraticus, https://www.cathopic.com/photo/10564-miada-cristo-cruz