What did Jesus see in Levi that made Him call to the tax collector? There were other publicans there, sitting alongside Levi. Why did the Christ only invite Levi to follow Him?

Jesus saw something special in Levi. "For the LORD sees not as man sees: man looks on the outward appearance, but the LORD looks on the heart" (1 Sam 16:7). Perhaps Jesus saw a generous heart full of longing.

Despite his wealth, Levi knew he was missing something. He trusted that Jesus knew what he was missing and trusted that Jesus could fulfill that need. So he got up, left the emptiness behind, and followed Jesus.

Levi was so excited about his new-found treasure that he wanted to share it with his friends. Who were his friends? Outcasts: other tax collectors, of course, and prostitutes.

Jesus did not shrink away from Levi's friends. He cared not that the popular and (self-)righteous among the Israelites considered these people deplorable, undesirable, unclean. Jesus knew that they, like all people, needed Him. So He dined with them.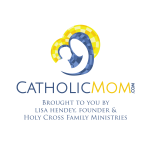 CatholicMom.com was started by Lisa Hendey in 2000 to create a community for Catholic parents to share insights on living their faith with their family. The website has grown substantially over the years to become a rich resource for all Catholics seeking spiritual enrichment for their families. It continues to provide fresh perspectives from the enriching columnists and contributors with daily articles and reflections as well as book and tech recommendations.