In the Bible I use as my study Bible, the second half of today's Gospel is labeled, The Privileges of Discipleship. Jesus tells his disciples that they are blessed because they get to see and hear what so many others desired greatly, but did not get to see and hear.
My initial reaction to this passage sort of brings out the chip on my shoulder. Kind of a response of, "Sure, rub it in, they got to see you in person and we don't. I get it, they were privileged, special, blessed while the rest of us are just trying to get through on the words and stories they left us." One would think that I would have learned by now, that there is always more than meets the eye and my first impressions are rarely correct.
In this passage from Luke, Jesus is guiding his disciples to a new perspective. Look at what comes before and after this passage. Just prior to this Jesus has sent out the 70 (or 72 depending on your preferred translation) who have gone out into the countryside to heal and cast out demons in His name. And lo and behold, it works! From timid followers who leave with nothing, they return rejoicing at the fruits of their labors. Just following this passage, a scholar attempts to trick Jesus by asking him about the law and eternal life. When Jesus turns the question back on him, the scholar responds with the Shema Yrasel, the centerpiece of Jewish prayer, "You shall love the Lord, your God with all your heart, with all your being, with all your strength, and with all your mind, and your neighbor as yourself." Jesus responds by affirming the scholar and then expands on the meaning with the story of the Good Samaritan (whose title would have been an oxymoron to the Jews of Jesus's time).
In the sending of the 70 (or 72), Jesus has begun to share his mission to spread God's kingdom with his disciples. In the Good Samaritan, he shows us that mission isn't just to the ones who live next to us, think like us or believe like us. Jesus is helping his disciples get used to the water so to speak, to get their toes wet before they have to swim in the ocean depths of the mission that He will leave for us, his disciples, to continue.
God's ways are not our ways. (Isaiah 55:8) It also isn't about becoming the wisest, the most powerful, the most influential, the most productive. Jesus praises the Father because He has turned all this human thinking around and stood it on its head. Jesus is telling his disciples (both them and us) that life isn't about what we expect it to be about. To live as a disciple, yes, we learn at the Master's feet, but we need to always remember that all right knowledge, wisdom, understanding (Gifts of the Holy Spirit, anyone?) come from God and they only flower and produce fruit when rooted in love.
So the Church, in her wisdom, gives us this reading in these early days of Advent, to remind us. This season isn't about bows and ribbons, parties and programs. It is about preparing our hearts for the shoot which will "sprout from the stump of Jesse." Because we too are special, blessed and get the privilege of discipleship. Not as we think it should be, but as God desires it. The disciples saw and spoke with Jesus in the flesh. We take Jesus, body, blood, soul, and divinity into our very being. He changed them from the outside in, but He has reserved for us who follow the opportunity to be changed from the inside out.
And all that started with a babe in a manger. The prophet tells us that as a result of that babe, that shoot sprouted from Jesse, "the earth shall be filled with knowledge of the Lord as the water covers the sea."
And that brings us back to the ocean of mission, where we serve God by serving our neighbor. Anyone what to go swimming this Advent?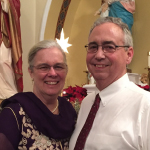 Sheryl O'Connor is happiest in her role as wife to Tom. Together, they are discerning Tom's call to the Diaconate and he is in his Aspirancy year with the Diocese of Kalamazoo. She splits her time between Holy Family Healthcare where she is the Director of Strong Families Programs and her parish collaborative where she is the Director of Youth Evangelization.