Catholics use a lot of language that is particular to us, for many reasons – it may come from Latin or Greek or theology or the ancient Church, and has been passed on and continually used. Some examples are words like "pope," "eucharist," "devotion," "communion," "benediction," etc. These words, like non-Church words, can be used so much that we might forget to think about what they actually mean.
"Immaculate" is one of those words. We use it to describe both Mary's origin and the state of her being: the Immaculate Conception and the Immaculate Heart. What does this mean? The word literally means "without spot/stain." She was born without the stain of Original Sin, and she preserved her absolute "spotlessness" throughout her entire life, something 100% of us are not able to do!
In every situation of her life, in every moment, she chose God instead of herself. She understood her absolute dependence on God for everything and she lovingly trusted in God for everything.
Was she tempted? Yes. But she never succumbed to sin.
Did she suffer? Yes. Deeply. But she knew how to suffer fruitfully.
At the Annunciation, the angel calls her "full of grace." Full, because there was no selfishness or sin taking up space where grace could abide. He says, "the Lord is with you," because she opened herself fully to Him always and invited Him into every moment of the day, every thought, word, and act. This young girl's response to the angel's invitation is the profound response of a soul who knows her position in the universe and in the Heart of God clearly: "Behold, I am the handmaid of the Lord; be it done to me as you have said." It is the confident response of an immaculate heart that trusts, a free heart that can make a way for the Word to become Flesh, a bold heart that can stand at the pivot of history and change humanity's course, a generous heart that can say YES to God in a new way and begin to unravel all the NO.
This Immaculate Heart never wavered from that YES, through uncertainty and danger, poverty and loss, maternal bonding and letting go, all the way to the Cross and beyond. And this Immaculate Heart was a steady beacon for the early Church, from the tomb to the ascension, through the prayerful waiting for the Spirit at Pentecost, to the missionary preaching and sacraments. And when her work here was done, God lifted her to Himself, body and soul, to be near her Son eternally.
The Church situates this Memorial the day after the Solemnity of the Sacred Heart of Jesus to help us see the closeness – the communion – of these Two Hearts, of Mother and Son. In Heaven, there are two human hearts beating as one before the Father, and they beat with love for you and for me.
Mary, help us to love as you love, and to give a ready YES to God!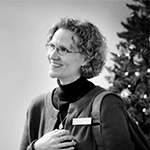 Kathryn Mulderink, MA, is married to Robert, Station Manager for Holy Family Radio. Together they have seven children (including Father Rob), and four grandchildren. She is President of the local community of Secular Discalced Carmelites and has published five books and many articles. Over the last 30 years, she has worked as a teacher, headmistress, catechist, Pastoral Associate, and DRE, and as a writer and voice talent for Catholic Radio. Currently, she serves the Church by writing and speaking, and by collaborating with various parishes and to lead others to encounter Christ and engage their faith. Her website is www.KathrynTherese.com
Feature Image Credit: Grant Whitty, unsplash.com/photos/5lzWL1tmpgs