Trying to write this post, the struggle is real. I've sat down to these readings and this Google Doc three, four, five times already and still find myself struggling to find the right words. The. Struggle. Is. Real. Not just when it comes to this reflection, though.
Over the past few months, this saying and other variations of it have slipped their way into my everyday conversation and I know that I'm not alone. When we're dragging without our coffee, when there's too much on our plate, when we're having a bad day, week or month, we admit that we're struggling with a laugh and a wink. "Don't worry, I'll shake it off," "Things will get better," "It's gotta go up from here" and more. We're afraid to show weakness, to show the depths of our struggles. I know that's true for me.
When you find yourself in a situation like the one described above, how do you react? When someone approaches you and admits that they are struggling (even if it's concealed in a joke), how do you respond?
More often than not, you find yourself relating to the person, even through the joke. Burdens, struggles, challenges, trials, etc. are all a natural part of human life. But how often do you offer your help to those in need? We often shy away, afraid that their problems will become our problems, adding to the burdens that are already present.
It's the same when it comes to living a Christian life, where sin and struggle go hand in hand. We are ashamed of our sin and so we tend to hide not only from each other but from the Lord Himself. When we hide, Satan uses our shame against us. The king of lies takes our struggles, magnifies them and multiplies them, doing anything he can to keep us away from our God.
As Catholics, we commonly refer to our struggles as "crosses." The difference is that we know the benefits and blessings that can come from carrying our cross. We look to the ultimate example – Jesus – as His Passion and death which led to the glory of His Resurrection and the salvation of all.
Today's first reading from the Book of Hebrews gives us encouragement in our battles, advice and a reason to hope for the future. We are told to endure our trials as "discipline" (verse 7) "for whom the Lord loves, he disciplines" (verse 6). Through that discipline "brings the peaceful fruit of righteousness to those who are trained by it" (verse 11).
If we can allow the Lord to use our burdens, He can and will do wonderful things with them. Easier said than done, right? Absolutely. Remembering that our burdens don't just magically disappear, if we allow Jesus to help us carry them, abundant blessings can be poured out in return.
Embrace the struggle, brothers and sisters. Admit that it is real and that we need help.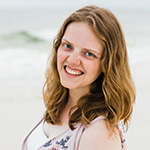 Erin is a Parma Heights, Ohio, native and a 2016 graduate of Franciscan University of Steubenville. She uses her communication arts degree in a couple of different ways: first, as an Athletic Communications Assistant at Baldwin Wallace University and, secondly, as a youth minister at her home parish of Holy Family Church. Although both of her jobs are on complete opposite spectrums, she truly enjoys being able to span the realm of communications. You can follow her on multiple Twitter accounts – @erinmadden2016 (personal), @bwathletics (work) and @HFVision (youth ministry).