In my lifetime, there's never been a year like this year, a year where nearly every single person on the entire planet can say it has been a rough year. Between the pandemic, natural disasters, social unrest, economic hardship, and on and on, everyone has faced some kind of struggle this year. Our readings today are just the kind of hopeful reminder we need in such times.
As the Psalm says, the Lord is our shepherd. Like sheep, we may not understand where he is leading us, but we know we are in his care.
Like those listening to Jesus in today's gospel, God will provide us what we need if we stay with Him. Sometimes, though, His aid may not come at the time we would like, or in the manner we expect. We may have to wrestle with literal or figurative hunger for a time.
As our first reading reminds us, this life is not our permanent state. We must remember the eternal banquet to come. On that heavenly mountain, God will save us from our physical afflictions, like hunger and thirst. He will resolve our interpersonal conflicts, taking away what divides us. He will heal our emotional wounds, wiping away our tears. Our sins and mistakes, He will wash away.
So, my prayer for all of us today is this: Lord, help us to trust in You, to remember You are guiding us even when we cannot see or understand how. Help us to remember this life is only our temporary home, and to keep our eyes fixed on You and our eternal home. Amen.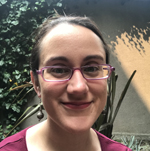 J.M. Pallas has had a lifelong love of Scriptures. When she is not busy with her vocation as a wife and mother to her "1 Samuel 1" son, or her vocation as a public health educator, you may find her at her parish women's bible study, affectionately known as "The Bible Chicks."
Feature Image Credit: Dimitri Conejo Sanz, https://www.cathopic.com/photo/174-pastor-sus-ovejas