One of the greatest privileges of working on a team is the knowledge and gifts of every person and the unending opportunity to learn new things and improve in my own gifts. One of the things I love most about my job is traveling to various parishes across the country and learning how much effort is put into communication and evangelization. There is a certain strength in numbers, a certainty that my weaknesses may be another person's strengths and that they can take the torch on a certain task.
Realizing one's own strengths and weaknesses is important. For me, it is sometimes hard to admit these weaknesses, even though I know they exist. I know that when I do admit them and ask for help I not only realize my reliance on God, but I also realize the tremendous gift of those God has put in my life.
Thoughts of the importance of coming together united in a common goal were running through my mind when I read today's readings. Here we see the early Church starting to form. Put yourself in these readings for just a second. Imagine you were in the time of the early Christians. Jesus has just risen and there is an excitement in the air to proclaim that good news. But there is also fear. Fear of the unknown, fear of death, fear of division.
It's no secret that there is a lot of division in our world today. Even amongst Catholics, we seem to be splitting between liberal and conservative, traditional and non-traditional, American and universal. Shouts of "I only like this certain Pope" or "This certain group in the Church is just plain weird" tend to take over the landscape of Catholic discussion.
Sometimes I think we forget that the word "Catholic" literally means universal. It means that no matter what, we are all one family. We are all a part of the body of Christ and at the end of the day we all have the same mission, to love God completely, to get to heaven, and bring as many people with us as possible. This is what we know of as the Communion of Saints. Eventually in heaven we will experience this perfect communion with God and each other, where there is no more division.
This scene from Guardians of the Galaxy is one of my favorite examples of the communion of saints. For those who haven't seen the film, the character Groot can only say a few words throughout the entire movie. He says, I am Groot, over and over again. In the final scene of the film, Groot sacrifices himself for the ones he loves and they all unite in a special way. Finally, the last words we hear from Groot are, "We are Groot." The perfect example of communion and sacrifice.
The communion of saints is not necessarily an experience that is exclusive to heaven. Today's readings are a calling to all of us to come together here and now as the universal Church and support and love each other, especially through difficulty and fear. When we admit our own weaknesses, allow others to use their strengths, support and love each other, and put aside our various differences, we will start to live what it truly means to be Catholic. May God help us all to see the gift of others and how that gift can bring us closer to God.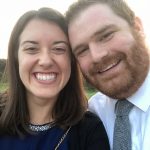 Tommy Shultz is a Solutions Evangelist for Diocesan. In that role, he is committed to coaching parishes and dioceses on authentic and effective Catholic communication. Tommy has a heart and a flair for inspiring people to live their faith every day. He has worked in various youth ministry, adult ministry, and diocesan roles. He has been a featured speaker at retreats and events across the country. His mission and drive have been especially inspired by St. John Paul II's teachings. Tommy is blessed to be able to learn from the numerous parishes he visits and pass that experience on in his presentations. Contact him at tshultz@diocesan.com.