There are so many places to launch a reflection from in today's Gospel. Jesus' sending of the disciples is full of vivid imagery and specific instructions on how, where and why the Gospel will be preached. As I prayed with this Gospel, I kept being struck by two little lines that seem to be tossed in the middle:
ˆWithout cost you have received; Without cost you are to give."
Jesus had just detailed the things the disciples were to do during their time away. They were to preach the Gospel, cure diseases, cleanse the people and drive out demons. During Jesus' day, these activities were all ones that a payment would have been expected. A preacher would extend a hat or shawl after a lesson, doctors have a fee, even religious leaders expected something in return for services rendered.
Jesus, however, immediately and without conditions lays bare what sort of payment the disciples ought to expect. Nothing. What they have received from Him, what powers or knowledge they now possess, they received without any monetary cost. They are to give what they have in the same way that they received it.
We, too, have received from Jesus. Jesus freely gives himself to us each Sunday at Mass in the Eucharist. This gift is given for our salvation and for our unity in the Mystical Body of Christ. The following is a beautiful passage from the document Lumen Gentium, one of the defining documents from the Second Vatican Council. It speaks about this incredible mystery that we participate in without charge:
"As all the members of the human body, though they are many, form one body, so also are the faithful in Christ. Also, in the building up of Christ's Body various members and functions have their part to play. There is only one Spirit who, according to His own richness and the needs of the ministries, gives His different gifts for the welfare of the Church. What has a special place among these gifts is the grace of the apostles to whose authority the Spirit Himself subjected even those who were endowed with charisms. Giving the body unity through Himself and through His power and inner joining of the members, this same Spirit produces and urges love among the believers. From all this it follows that if one member endures anything, all the members co-endure it, and if one member is honored, all the members together rejoice." (LG 7)
We are transformed each Mass more and more into the Body of Christ. This should produce within us a spirit of love and generosity for the other members of the Body. But even more so, it should open our eyes to all humanity, who Jesus is equally calling to the table. Jesus did not send His disciples to specific people, but to all people. He did not require they demand payment, create hoops to be jumped through, or hurdles to be surmounted before receiving what they themselves had freely received.
The love and forgiveness you have been gifted by God are not yours to keep. They have been given to you so that you can freely give them away. Each Mass, you are given the grace of the Eucharist not to keep for yourself, but to pass on to those you meet in your daily life.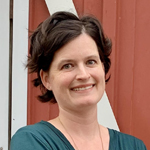 Kate Taliaferro is an Air Force wife and mother. She is blessed to be able to homeschool, bake bread and fold endless piles of laundry. When not planning a school day, writing a blog post or cooking pasta, Kate can be found curled up with a book or working with some kind of fiber craft. Kate blogs at DailyGraces.net.
Feature Image Credit: bayern-reporter_com, https://pixabay.com/photos/church-communion-confirmation-child-4293120/